Why Memory-Try-It will boost your gaming rig
WRITTEN BY Shrek
Posted on July 14 2016
---
What is it?
It's better than XMP and it's the best way to get maximum speed out of your system memory and boost system and game performance: Memory Try-It. Memory Try-It is a Click BIOS feature of MSI motherboards, present in all our motherboards on both Z170 and X99 chipsets. Usually, you are being told to run XMP settings on your motherboard to get the most out of your memory. And that's the very basics any gamer should know. But sometimes you need more. Why? Simple! Because you can! Memory Try-It allows you to increase the performance of your DDR4 without knowing anything about memory frequency or timings. So how does it work and how to use Memory Try It?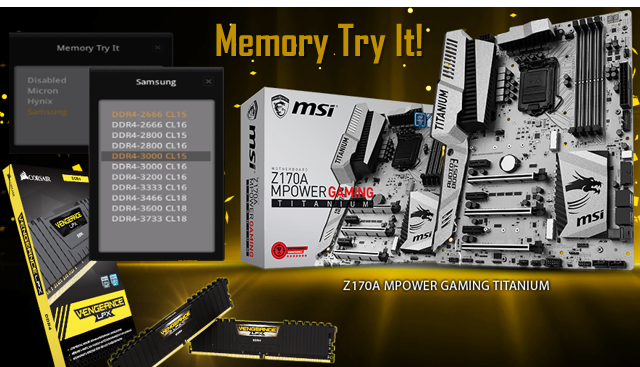 How Memory Try It boosts your PC
Memory Try-It is a collection of memory presets configured by MSI Engineers by testing countless memory brands and chips used to see what they could achieve in terms of speed and latency. Since memory vendors such as Corsair and Kingston build and tune memory kits using memory ICs (chips) produced by either Samsung, Micron or Hynix, this means once you enter the BIOS to enable Memory Try It, you get to choose between Hynix, Micron and Samsung where you would expect to see Corsair, Kingston, G.Skill etc. So the memory configurations you will find based on each memory chip brand brand can work on Corsair, Kingston, G.Skill and other vendors as long as you choose the correct memory chip vendor which has been used on your specific memory kit. If you don't know what memory ICs your memory kit is using, you can check the memory support list for your motherboard on MSI official website. All the supported memory kits and memory ICs are listed: https://www.msi.com/Motherboard/support/Z170A-MPOWER-GAMING-TITANIUM.html#support-mem
Once you established which brand to pick, you can continue to safely load a chosen performance profile and enjoy a free performance boost :D
Setting it up
Memory Try It is very easy to set up, just like X.M.P. anyone can do it! For further explanation on how Memory Try It works we are taking the new Z170A MPOWER GAMING TITANIUM motherboard. Starting July 2016 this board comes with a special promotion, including a Corsair Vengeance DDR4 memory kit while stock lasts. You can find out more about this special promotion at https://gaming.msi.com/promotion/corsair-memory-bundle So let's set up a nice boost for our memory. 
Step 1: Simply restart your PC and go to the BIOS by pressing the DELETE key. Navigate to the Memory Try-It menu to select memory presets configured by MSI Engineers depending of your ICs (chips used on your specific memory kit).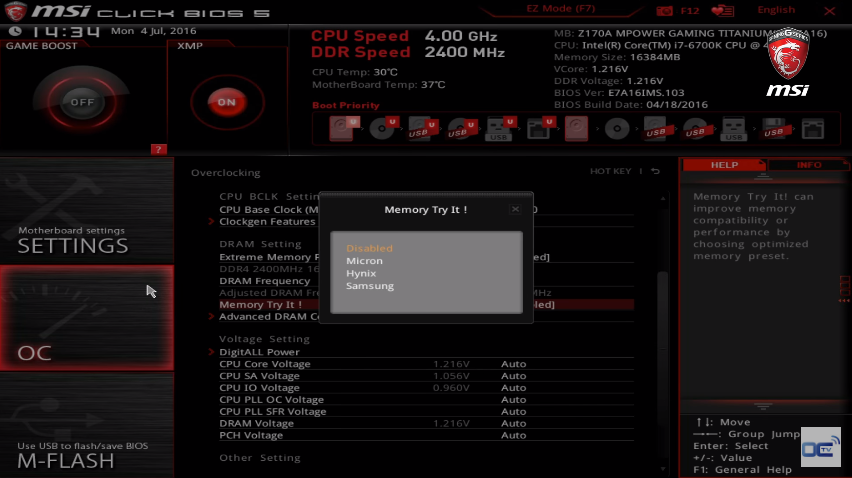 Step 2: This particular Corsair kit we used in this article comes with Samsung memory chips running at a frequency of 2400 MHz. You can see we can choose up to DDR4-3733 CL18 for chips based on Samsung ICs. However, for a kit rated at 2400MHz, DDR4-3733 might just be a little too much ;) But don't worry, should you pick a profile which isn't 100% stable or even fails to boot there is a fail safe built in.


After selecting the desired profile, simply choose 'Save & Exit' and your system will reboot and apply the new memory speed.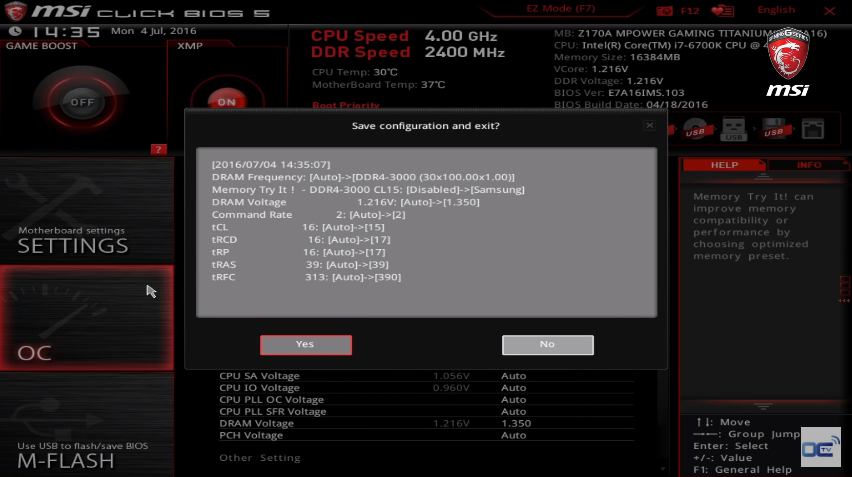 As mentioned above, each time you apply a preset, your PC will restart and the motherboard will try the new profile. If that profile works, you are good to go. If it doesn't, your system will simply notify you and you will have to head back to the BIOS to try out another one. That's it!

Step 3: Test your settings. With higher memory clocks you can reach higher in game in game performance. We've tested this DDR4-2400 kit at 2800MHz with Aida64 memory benchmark. Read speed went up by 21% and write speed by 17%, just like that.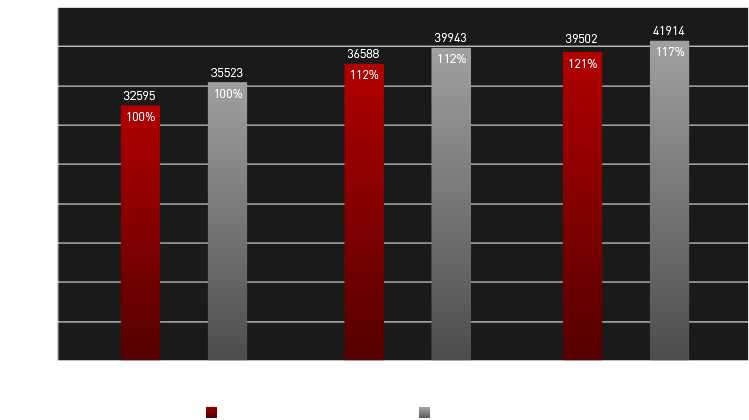 | | |
| --- | --- |
| Did you know MSI is the first brand breaking the 5000 MHz memory clock barrier? All this industry leading knowledge on memory performance & stability has been put into Memory Try It! | |
You can also check out the MSI Pro Cast video from pro overclocker Christopher 'Pepinorang' Besse to learn more on how to use Memory Try It and boost your gaming rig. Benefit directly from a single MSI BIOS option to give you better performance. Give it a try!
Looking for the perfect match with MSI and Corsair? Check out our great bundle with the new Z170A MPOWER GAMING TITANIUM and Corsair Vengeance memory at https://gaming.msi.com/promotion/corsair-memory-bundle