Following creating a New World Record of 3DMark benchmarks a couple days ago, MSI™ was, in rapid succession, listed in Business Week IT Top 100.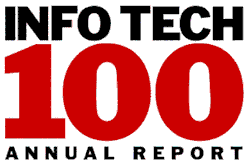 The companies were ranked on four criteria: shareholder return, return on equity, revenue growth and total revenues (which was given 1.5 times the weighting of the other categories). Finally, this year, only 11 Taiwan Companies were included in IT TOP 100 list. In major Taiwan MB makers, MSI™, Asus and ECS were included in the list as great achievement and growth in 2002. Most importantly, comparing to other first-tier MB players, MSI™ is the only one making great progress though it's not ranking in the first position of MB makers. One thing more interesting is, this year, Gigabyte lost their position and was excluded in the list.
| | | | |
| --- | --- | --- | --- |
| | Year 2002 | Year 2003 | Change |
| MSI™ | --- | 85 | up |
| EliteGroup | 8 | 50 | down |
| ASUSTek | 23 | 77 | down |
| Gigabyte | 61 | --- | down and excluded |
Despite of the overall operation achievement to be listed in Business Week IT TOP 100, MSI™ has already built very good reputation in the crowd. The Most Powerful Magazine in SE Asia, HardwareMAG just released in June Issue a Poll results on their site(www.hardwaremag.com). In Motherboards Category, keeping the leading position in 2002, MSI™ motherboards proved to be a clear winner with 32% of the motherboard-buying respondents favoring them.( MSI™ had 26% last year, with Asus at 20% and ABIT at 20%)
In Graphics Card Category, once again, MSI™ proved to be the most popular graphics card brand in this category ( after discounting the 16% of respondents who did not mention the brand of their Nvidia based pruchases) with 15% of the consumers. ( In 2002, MSI™ only was a distant 7th place).
So...anyone else is better than MSI™? MSI™ makes others FOLLOWERS......

(News Source From Business Week)