Micro-Star International (MSI™) plans to start volume shipments of its Mega PC mini-barebone system next month, strengthening its own-brand PC system operations. The company unveiled the system in March.
Earlier, MSI™ also launched a "Pen Note" Tablet PC line based on Transmeta processors and aimed at the sub-US$1,000 market.
Previously, MSI™'s system business had been mostly dedicated to OEM operations. However, seeing that board makers' gross margins were being greatly eroded by fierce price competition in the sector, the company gradually strengthened its operations in the own-brand market in 2002, introducing several peripheral products like optical storage drives, LCD monitors and mice. The PC system products are the company's new focus for 2003.
MSI™ originally scheduled to hold a product launch conference on May 6, but decided to cancel the event out of concern about the current SARS situation in Taiwan.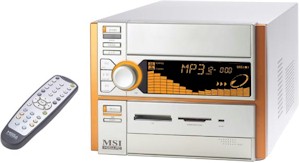 Related stories:
(News Source From DigiTimes)