Since MSI™'s launch of 875P Neo-FIS2R in April, the worldwide top-notch media, including Anandtech (US), HardwareZone (Singapore), DOS/V (Japan) and PC DIY (Taiwan), cannot wait to recommend end users this cutting-edge Pentium®4 motherboard within one month.

Anandtech, the world class hardware review site, tested it and said, "The MSI™ 875P Neo-FIS2R is easily the most overclocker-friendly Pentium® 4 motherboard we've come cross, both in terms of BIOS options and FSB overclocking ability...The average desktop user or hardcore enthusiast will be completely satisfied with the MSI™ 875P Neo-FIS2R, as it pretty much offers everything these users could want...The feature, price, overclocking-friendly setup and availability of this board are all exactly what we want from our ideal desktop motherboard."On the whole, they concluded the board nothing but: "Our favorite thus far".




Another Singapore-based top-notch hardware review site, HardwareZone, awarded this board with three big ones, including "5 Stars (out of 5)", "MIP (The Most Innovation Product)", "MOP (The Most Overclockable Product)". HardwareZone said, "All in all, we were very pleased with this board...Great performance, unbelievable overclocking options, good on-board features and a proprietary monitoring technology are all part of MSI™'s main recipe for success...we believe that most hardcore users out there would find true love with this board."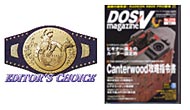 The leading hardware reviewer in Japan, DOS V magazine, compared three 875P-based motherboards from ASUStek, Gigabyte and MSI™. Among them, MSI 875P Neo-FIS2R topped the tests and was honored with the Editor's Choice award.


PC DIY magazine, the most professional computer hardware reviewer in Taiwan, because of the complete add-on functions, like MSI™'s exclusive CoreCell™ chip, overclocking features, IEEE1394, USB and Serial ATA support, also awarded 875P Neo-FIS2R with the Editor's Choice.
The above awards do endorse the excellent design capability of MSI™'s next-generation Pentium4-based platforms. As the 800 MHz of front side bus is getting more and more popular, MSI™ will also launch som related 865P/PE/G-based motherboards to wow the market with the amazing add-on functions and good price.
For more information regarding 875P Neo series, please check it at: