News
MSI introduces the new NVIDIA GeForce GTX 780
Supports Exclusive MSI Afterburner for Voltage Adj
Latest Update: Thu, 23 May 2013
[Taipei, Taiwan] The leading maker of graphics cards and motherboards has officially announced a new generation Graphics cards in the form of the GeForce GTX 700 series. The new series is kicked off with the high-end MSI GeForce GTX 780 graphics card that uses NVIDIA Kepler core architecture and is equipped with 2304 CUDA cores, 3GB of 384-bit GDDR5 high-speed memory, and GPU Boost 2.0 for dynamic core frequency adjustment to optimize gaming performance. The exclusive MSI Afterburner overclocking utility can also tweak the core frequency and max power consumption based on system load for improved gaming performance. The MSI GeForce GTX 780 supports NVIDIA 3D Vision Surround to output up to four monitors from a single graphics card. Computer enthusiasts will be able to multitask better and enjoy gaming like no one has ever experienced before!

 
MSI GeForce GTX 780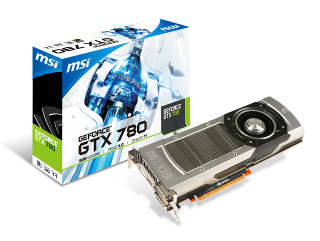 Unleash Ultimate Performance with GPU Boost 2.0
The MSI GeForce GTX 780 graphics card is built on the latest 28 nm process with 2304 CUDA cores. It features 3GB of high-speed 384-bit GDDR5 memory, PCI Express 3.0 and DirectX 11 support, as well as NVIDIA 3-way SLI support to satisfy the ultimate performance demands of gaming enthusiasts!





Support for MSI's Exclusive Afterburner Overclocking Utility
The MSI GeForce GTX 780 graphics card supports the latest NVIDIA GPU Boost 2.0 technology to dynamically adjust the core frequency for optimized gaming performance. Coupled with the exclusive MSI Afterburner overclocking utility, gamers can freely tweak the power consumption and core frequency to improve performance. Predator is a gaming video capturing utility built into Afterburner. Gamers can easily share their gaming experience, monitor the graphics card from their smart phone, and even conduct a burn-in test with the free Kombustor utility. This truly gives gamers the ultimate experience!


Multi-output from a Single Card for a Full 3D Entertainment Experience

The MSI GeForce GTX 780 features two dual-link DVI ports, one DisplayPort, and one HDMI output for full support of NVIDIA 3DVision Surround. Gamers can enjoy their games in ultra widescreen 3D over three 3D-capable 120Hz monitors when using 3D glasses. The single card supports four simultaneous outputs for gaming and multitasking enthusiasts.

For more product information on the MSI GeForce GTX 780, please go to: http://www.msi.com/product/vga/N780-3GD5.html