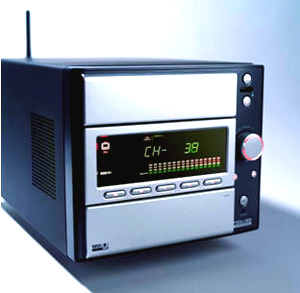 The leading mini multimedia PC provider, MSI reveals a whole new MEGA PCs. You will find improved features in MEGA PC 865 PRO, including Direct DVD playback, better sound effect, superior graphics, higher speed WLAN, and support for the latest CPUs.
Instant-On Mode
The latest MEGA PC is MEGA PC 865 PRO. MSI provides Instant-On mode for direct DVD / VCD / CD / MP3 / FM / TV playback. Just press the Instant-On mode so you can enjoy all kinds of video or audio entertainment thru remote control. No need to boost the system into Windows, the comfortable digital life is easy to access.
Better Sound Effect
MEGA PC PRO makes watching DVD a real enjoyment with the high-performance Realtek audio controller. You can experience high-level sound effect in some DVD movies like "The Lord of the Rings", "Pirates of the Caribbean: The Curse of the Black Pearl" or "The Matrix" series. If you use an LCD monitor or Plasma TV with it, the visual experience is close to being in a movie theater.
Higher Computing Power
Based on Intel 865G chipset, MEGA PC 865 PRO supports the latest Intel® Pentium 4 Prescott (LGA775) CPU that offers higher computing performance. The CPUs are made through latest technology by Intel. Compared to previous generation CPU, Prescott CPU provides much higher computing power and better performance for all the applications that need huge system resource.
Integrated 802.11g WLAN
MEGA PC 865 PRO is equipped with 802.11g WLAN. It offers wireless transmission over relatively short distances up to 54Mbps. That is almost five times the speed of existing 802.11b wireless products and ideal for audio, video, and multimedia applications. The 11g WLAN is compatible with 11b products, so both 11b and 11g clients can reside on the same network. This flexibility preserves your network investment and allows you to upgrade or scale your network according to your budget and time frame.
7-in-1 Card Reader

In previous MEGA PC, we provided 6-in-1 card reader to support most of the memory cards, including CF/SD/MS/SM/MMC/Microdrive. Now MEGA PC 865 PRO features 7-in-1 card reader. It supports one more format, MS-Pro. For most of Digital Camera, DV or portable devices users, MEGA PC 865 PRO is a very convenient platform to read and write files in memory cards.
InterVideo Home Theater 2.5
To make people operate MEGA PC easier, MSI and InterVideo have designed InterVideo Home Theater 2.5 for MEGA PC 865 PRO. Via the smart remote control, people need only sit on the sofa to enjoy the video, audio and photos.
As a complete entertainment PC provider, MSI is always dedicated to creating better product features and designing more stylish products. In the future, MSI will introduce more MEGA PC models providing more benefits to consumers.