News
MSI in Mega Bazaar Consumer Show 2015
Latest Update: Thu, 19 Mar 2015
Location: Jakarta, Indonesia
Date: 4-8 March 2015
Venue: Jakarta Convention Center



March 4-8, Jakarta. Mega Bazaar Computer (MBC) exhibition is one of biggest IT exhibitions in Indonesia. MSI collaborated with a major dealer IT Galeri to display a full product line of MSI gaming notebooks. It was also the debut of MSI's newest products— GT80 Titan SLI, GS30 Shadow + Gaming Dock, and GE62 Apache Pro.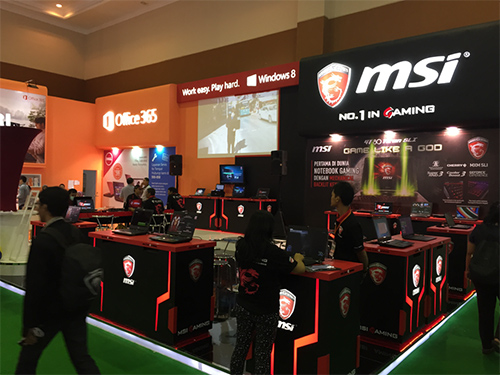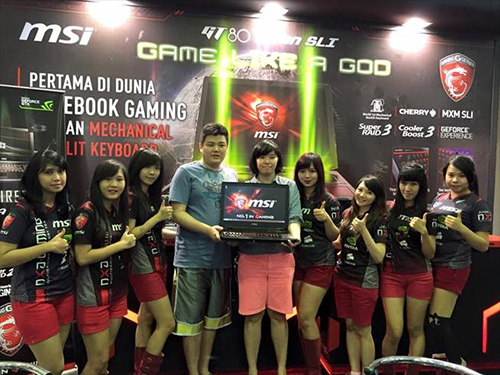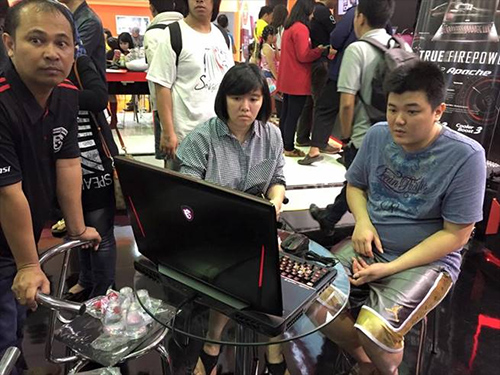 The first person in Indonesia who bought and owned the MSI GT80 Titan SLI!

NXA Ladies, MSI's best partner and a professional lady gaming team, was invited as a VIP guest. During Friday to Sunday, visitors had the opportunity to have a 2 on 2 challenge with NXA-Ladies. More than 180 gamer joined the challenge.


Facebook Photo Documentation
https://www.facebook.com/media/set/?set=a.708818752572675.1073741843.268271373294084&type=3
https://www.facebook.com/nixiagamer/photos/a.269319553099954.69893.262270683804841/910182699013633/?type=1&theater
https://www.facebook.com/nixiagamer/posts/911288808903022

Media Exposures
Harianaceh. http://www.harianaceh.co.id/2015/03/07/jajaran-notebook-gaming-besutan-msi-di-mega-bazaar-2015/
Metro TV. http://teknologi.metrotvnews.com/read/2015/03/07/367888/msi-pamerkan-jajaran-notebook-gaming
CNN Indonesia. http://www.cnnindonesia.com/teknologi/20150305102650-185-36884/msi-jajakan-laptop-rp-65-juta-di-mega-bazaar-2015/
Jeruknipis. http://www.jeruknipis.com/read/2015/03/08/dibanderol-rp-65-juta-inilah-laptop-gaming-dengan-spek-tanpa-ampun-dari-msi
Motobikerz. http://motobikerz.com/archives/10846
Teleplus. http://www.teleplus.co.id/2015/03/08/mega-bazaar-manjakan-penggemar-games-di-hari-terakhir/
Suararakyat. http://www.suararakyatindonesia.org/msi-hadirkan-nootbook-gaming-seharga-rp-65-juta/
Inilah. http://teknologi.inilah.com/read/detail/2185069/mega-bazaar-manjakan-pecinta-game-di-hari-terakhir