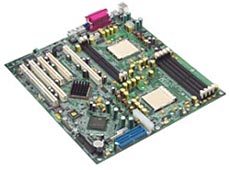 On April 22, MSI™ will unveil several new models of ordinary server motherboard and rack-mount type server motherboard, en par with AMD's launch of its new server CPU, namely Opteron™.
K8D-Master supports dual processor of AMD Opteron™ , is an entire new product targeted for server market; besides providing high performance and high stability, the overall product specification also has increased I/O performance.
K8M-Master is an 8-layer printed-circuit design, enabling precised isolation of signal and circuits based on different frequency, thus highly improved stability of server products. K8D Master-F has built-in with 64-bit Dual Gigabit LAN, 3 slots of PCI-X (64bit/100MHz), 2 slots of PCI (32bit/33MHz), ATI Rage XL graphic chip (8MB), 6 slots of DDR333 DIMMs supporting up to 12GB memory.
Another model, K8D Master-FT, is a rack-mount type server motherboard, build in 1 slot of PCI-X, and 1 slot of Mini PCI, with a better flexibility for MIS personels, meeting different requirement from different platforms.
During the AMD® Opteron™ Launch Event, MSI™ also announced the µStar® Server Managenent µStar® Server Managenent including MMS (MSI™ Server Management Suite), iConsole (MSI™ Server Management Software) can be used to remote control the Server and Hardware Monitoring function.
With these new software functions integrated in MSI highly reliable hardware products, it is no doubt that the MSI™ server products will perform an outstanding result among the new generation server products.
µStarRMMS function :
MSI™'s MMS technology leverages off the industry standard IPMI 1.5 (Intelligent Platform Management Interface), this provides the fabric for system level management communication. The proprietary MMS software developed using IPMI is capable of allowing the Network Administrator to perform remote server management via the Internet. If a problem arises from the server, the system is capable of sending a warning signal to the network administrator no matter where he may be at that time. Beyond the warning feature, the Network Administrator can also access the remote management feature to assess the situation and determine where the issue lies. Additional features include recovery, system reboot function as well as full system configuration. These added features allow the administrator to quickly manage, assess, debug and bring the system back to full functionality in the shortest time possible. The following section describes the MMS features in more detail:
Hardware Monitoring:
The most cost-effective deployment of system management that utilizes the least amount of human resource to review hardware status. Hardware Monitoring can be used at a remote location to monitor your MSI™ server. The network administrator is therefore capable of assessing the vital system information such as System Temperature, Voltage, Fan Speed, CPU temperature and much more.
OOB: (Out of Band)
Allows the user the capability of managing the server's functions without being at the physical location. The essence of OOB allows repair and management features from a remote location if the system should cease to function.


Secure Mode:
Can prevent unauthorized access and possible damage to the system using software protection. Secure Mode allows the Network Administrator to lock both the power and reset button, thus preventing unauthorized access to the use of the servers.
Chassis Identify:
In a server room with multiple racks of servers, Chassis Identify quickly allows the Network Administrator to locate the troubled system instantly. Chassis Identify utilizes a button and LED at both the front and rear of the unit to allow easy identification within the server group.
Chassis Control:
Allows the System Administrator to perform Cold Boot, Shutdown, reset (reboot) functions.
System Event Log:
Capable of logging all system event information, System Event Log records hardware status, events to even system management functions. This allows the administrator to quickly check, manage and fix system abnormalities.
Abnormal Event Preset (Event Action, Fault LED, Blue Screen):
Prior to an abnormal event, the System Administrator can preset the server's functions to either reboot, post a Blue Screen warning or even turn on the warning light (Fault LED) in order to alert the user.
ASR (Auto Server Restart):
ASR allows the server to automatically reboot after a preset time if the system locks up or cannot function, thus reducing the overall system downtime.
Boot Option:
This function allows the Administrator to choose the sequence during system POST. Detailed choices include options to boot from FDD, CD-ROM, hard drives or even a particular logical partition on a specified drive. Boot Option is a very feasible method to perform a common function that typically requires the Administrator to access the server room.
Console Redirection:
Coming from the system BIOS, Console Redirection is capable of allowing server machines to be displayed on a remote terminal. This function allows the Administrator to effortlessly manage server functions remotely as though they were physically present in the server room. (Currently, Console Redirection is only available under DOS mode.)
MSI™'s strength and reputation has already been widely established in the IT industry. With its product line stretching from Slim PC, Servers, Network appliances, Optical Devices to even IA products, MSI™'s product lines are complete and reaching maturity. Through the achievements and success of products, MSI™ wishes to transform into a total solution provider in the Technology industry. Through determination to provide superior products to our customers, MSI™ will continue to develop and manufacturer competitive products to meet the needs of all segments in the market today.