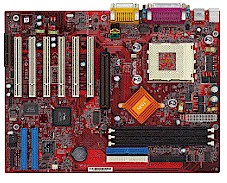 It is red. It is the hottest. MSI™ has announced the release of the K7T Turbo-Limited Edition. The socket A K7T Turbo Limited is based on VIA®'s well-known KT133A chipset and conforms to the ATX form factor. The board has an attractive look and a golden MSI™ heatsink that will surely get your attention. Its cutting-edge design supports the latest AMD Athlon™ and Duron™ processors and is geared for performance PC users that require expandability and upgradeability. With support for a 266MHz Front-Side Bus (FSB) and 4x AGP, the K7T Turbo Limited offers unprecedented advantages in graphics performance and I/O transfers. Whether you're a business user running multiple applications or a hardcore gamer searching for the most reliable system, the K7T Turbo Limited enables you to maximize the benefits of the latest AMD processor technology.
Since RAID is becoming more common these days, the K7T Turbo Limited is equipped with the Promise Ultra ATA 100 controller (optional) to provide excellent drive performance and data redundancy. The K7T Turbo Limited has a total of three DIMM slots, supporting up to 1.5GB SDRAM. In terms of expansion slots, the K7T Turbo Limited's 6/1/1(PCI/AGP/CNR) expansion slot design should be enough for most users. Two USB ports are mounted at the back of the motherboard together with the serial/parallel ports. MSI™ also includes the necessary USB bracket for the users to take advantage of the second USB controller.
Fuzzy Logic™ 3 is a smart automatic overclocking tool exclusively available from MSI™. The software automatically adjusts the CPU to its best condition in real time under the OS. Live BIOS™, another useful software from MSI™, examines the BIOS version automatically with the latest version available on the web, links to the site for users to download the latest version of BIOS and updates the BIOS. With the "automatic and user-friendly" interface, Live BIOS™ allows the users to download and update the BIOS under the Windows® environment. Even better, the K7T Turbo Limited now supports USB PC to PC connection. By using the USB cable included with the K7T Turbo Limited, computer users could easily conduct data transfer, back up, Internet access, peripheral sharing, and some other useful functions.
MSI™ always has products of the highest quality and the K7T Turbo Limited is no exception. If you need to learn more about MSI™ K7T Turbo Limited, please visit our website at: /