News
MSI announces the GeForce GTX 780 LIGHTNING graphics card, once again
Exclusive Triple Force Arc
Latest Update: Wed, 28 Aug 2013
[Taipei, Taiwan] MSI, world renowned graphics card and motherboard manufacturer, has officially announced the release of the GeForce GTX 780 LIGHTNING. This product uses the new exclusive Triple Force Architecture and is equipped with a Triple Level signals LED. The card, from the inside out, represents the next revolution thermal design. The combined power of the Twin BIOS and the card's Enhanced Power Design equip gamers and extreme overclockers with the ultimate weapon. This superior performance is accompanied by a 20-phase power design that can unlock the limitless potential of the graphics card. Also featuredis the patented GPU Reactor powered back plate design which filters power supply noise and improves overclocking stability. The MSI GeForce GTX 780 LIGHTNING is built using Military Class 4 components that have passed rigorous certification testing in third party laboratories. With such powerful components, this graphics card is guaranteed to have an impressive service life and excellent overclocking stability. Additionally, the popular 3x3 OC Kits allow for gamers to effectively monitor the status of the graphics card. MSI products are renowned for leading the industry due to the company's innovative R&D, excellent performance, streamlined thermal design, and quality components and software. The MSI GeForce GTX 780 LIGHTNING is once again the most powerful graphics card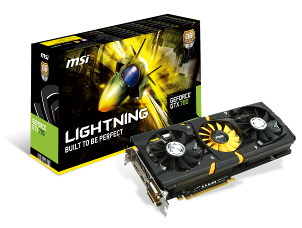 MSI GeForce GTX 780 LIGHTNING

Exclusive Triple Force Architecture – The Ultimate Weapon
The latest generation of MSI's GeForce GTX 780 LIGHTNING uses Triple Force Architecture. Equipped with a Triple Level Signals LED function, TriFrozr Thermal Design with independent fan control system, and Pure Digital PWM control. The Triple Level Signals LED features green, blue, and red lights that represent light, medium and heavy power loads on the device. This ensures that players have complete control over their games or the overclocking process. The innovative TriFrozr Thermal Design with independent fan control far exceeds any traditional or custom cooler's thermal performance and ensures better cooling of the GPU, memory and PWM modules. This iteration of MSI's exclusive design builds upon the Propeller Blade fans and the Dust Removal Technology of the previous model, alongside seven 8 mm SuperPipes for unrivaled thermal performance. In addition, the Pure Digital PWM control technology provides a more stable and accurate voltage signal than traditional designs. The PWM's reaction time is shorter and helps enthusiasts more achieve a higher stability in the most stressful of environments.

Twin BIOS and the Enhanced Power Design Combine for Extreme Overclocking Capabilities


Twin BIOS is composed of a gaming BIOS and overclocking BIOS. The gaming BIOS allows users to obtain better performancethrough out of the box overclocking, while the overclocking BIOS is specifically designed for extreme LN2 overclocking. By removing restrictions, the capabilities of the graphics card are dramatically increased, which allows users to unlock the card's full potential. The enhanced power supply provides more phases of power than standard models. The GPU has 16 phases, which more than doubles the capabilities of standard designs. The memory of the power supply even has a independent power source, which further supports a foundation for extreme overclocking. Not to mention that MSI's exclusive, patented GPU Reactor filters out extra noise for a stable overclocking experience.



Top Military Class Components and Convenient Overclocking Utility
MSI always emphasizes top quality and stability when pursuing the highest in product performance. When developing products, MSI makes satisfying market demands and expectations its primary goal. The MSI GeForce GTX 780 LIGHTNING introduces the latest Military Class 4 components to the series. The components have gone through rigorous testing by a third-party laboratory to satisfy the MIL-STD-810G standard. Regardless if it is the advantages of the low-temperature, high performance DrMOS 4, the double-sided CopperMOS thermal design, the highly durable and stable tantalum Hi-C Cap cores, the polished surface of the New SFC for added cooling, or the corrosion proof Dark Solid CAP, each aspect of the LIGHTNING ensures the best possible stability.



The 3x3 OC Kits Puts the Information in Your Hands
Designed specifically for overclocking, the 3x3 OC Kits are a must-have for all enthusiasts. The kit allows users to adjust the voltage levels GPU, memory, and PLL through MSI's exclusive Afterburner utility while monitoring GPU, memory, and MOFSET temperatures. V-Check Points also capitalize upon the multi meter measuring of GPU, memory, and PLL voltage levels to give users direct calibration data—a function that guarantees success in the world of extreme overclocking

For more information about the GTX 780 Lightning, please visit: http://event.msi.com/vga/lightning/