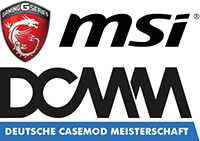 【Taipei, Taiwan】Europe's biggest annual gaming expo Gamescom will be taking place from August 17-21, 2016 in Cologne, Germany. The five-day event is expected to attract over 350,000 visitors. Leading gaming hardware brand MSI will of course be on site, offering three exhibits: Build Your Own PC Workshops, Cool PC Case Mods Show, and currently most in-demand MSI Electric City VR Experience. Whether you're just learning how to assemble your own PC, interested in VR, or a modding aficionado, everyone will be able to come away with something from their experience at the MSI booth. What's more, all guests and participants will have the chance to take home MSI Dragon goodies.
For the first time, MSI has cooperated with the German Case Modding Championship (DCMM, Deutsche Casemod Meisterschaft) to become this year's DCMM exclusive hardware sponsor and the only officially designated motherboard brand. The MSI and DCMM are planning to support each other fully during the expo in the effort to fully promote and encourage gaming PC modding. MSI will be providing our Z170A GAMING PRO CARBON motherboards for use during DCMM's 24H Live Modding Competition, whereas the Competition opening and awards ceremonies will be held atop the stage at the MSI booth.
Exhibit 1: Build Your Own PC Workshop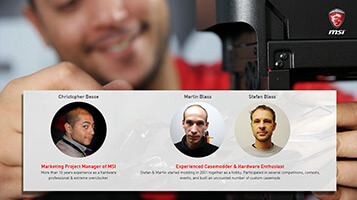 MSI has invited well-known German PC casemodders Martin and Stefan Blass and overclocking expert Christopher Besse to hold PC building workshops on site. Participants will be able to gain hands-on experience through a complete teaching program, learn the names and functions of certain PC components, and also gain knowledge about watercooling, which can all be put together to create your own, one-of-a-kind gaming PC. No previous experience or knowledge required. Learn enough in an hour to benefit you for a lifetime!
All workshop participants that finish the session will receive a limited-quantity MSI Dragon goodie bag, plus have the chance to win gaming products by Corsair and Aquatuning.
(Register online before August 14th to receive a Total War: Warhammer game code!
Register online now
!)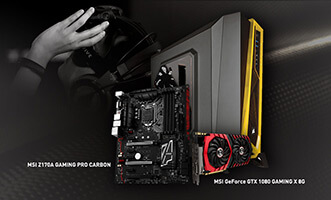 Exhibit 2: MSI Electric City VR Experience
MSI Electric City is a VR game MSI has developed using the Unreal Engine 4 that takes gamers and observers into an unprecedented cityscape filled with meticulous lighting, magnificent landscapes, original soundtracks, and lush audiovisual effects.
We are introducing a hardware platform that we developed in collaboration with CSI that features the newest
MSI Z170A GAMING PRO CARBON
motherboard and
MSI GeForce GTX 1080 GAMING X 8G
graphics card, boasting a powerful cooling system and a number of highly exclusive add-on designs. The VR-ready development platform allows for a more detailed performance. Those interested in such an elusive VR-ready desktop can buy one at a special discount price
online
today.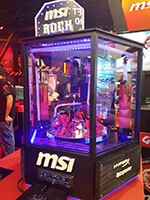 Exhibit 3: Cool PC Case Mods Show
At the nearby DCMM booth, MSI will also be exhibiting the unique case mods of renowned European modders RandomDesign, BaluC, Soccer, and Nanoxia. Awe-inspiring exteriors enclose internal component modifications and layouts that are equally astonishing. These builds not only satisfy their function, they also fulfill the visual, audial, and interactive needs of their users. They're the perfect combination of technology and art. There will also be a 3DGENCE experience area next to the exhibit, where attendees can try their hand at 3D printing case components that suit their needs.
Sneak Preview of New Products
During the exhibition, MSI will also be unveiling two new motherboards: A new AMD based CARBON model and another high-end Intel X99 motherboard. Our first AMD based CARBON motherboard is a high-performance model designed with MSI's famous CARBON DNA in mind, together with Mystic Light RGB LEDs. It has USB 3.1 GEN2 TYPE-A/C ports and it's the first motherboard to feature an M.2 slot on an AMD AM3+ chipset model. The new X99 model supports ECC DIMM memory and delivers high-end performance with an affordable price tag. When using the Intel i7-6950X CPU, MSI's newest technology allows for Turbo M.2, Turbo U.2, and SATA Express to be enabled simultaneously, boosting hard drive data transfer quality and speed, maximizing hard drive capacity while lowering the risk of data failure.
We welcome our fans to join us in Germany from August 17th to 21st and come visit the MSI booth at Gamescom 2016. Come experience our Dragon Spirit, and let's have fun together at Gamescom 2016!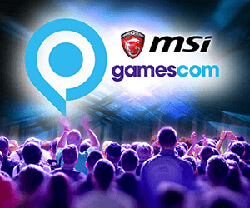 Gamescom 2016 MSI Booth
Location: Gamescom Hall 10.2, Booth F-053
Date: August 17-21, 2016
Event Homepage:
http://goo.gl/vaDIIj