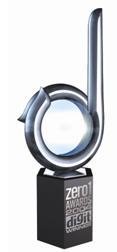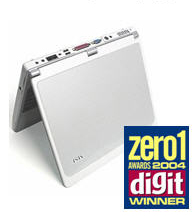 Quote from original text "....Blazing performance saw the M510C take the crown in the workhouse category. The Megabook M510C also offers a good configuration for the price..."

The MSI MEGABOOK M510C portable notebook offers a large display, a slew of connectivity ports, powerful components and most importantly an affordable price. As far as design of the notebook is concerned, MSI MEGABOOK 510C with pearly white and silver color combination is a good stray away from the cliché black, grey and silver versions.
Conversely, the downside of having a white notebook is its high susceptibility to scratches and stains. Due to these reasons, a fair amount of watchful handling and maintenance is necessary to keep the M510C in its clean white condition.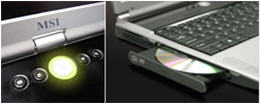 Given the mass of the M510C, the unit is just within range of the weight of a mainstream notebook but a whisker outside the range of a desktop replacement. Furthermore, user can use it as a decent gaming platform as well, enjoying hours of fun in LAN parties (wired or wireless).

The deepest impression it makes on a user has got to be its battery life. Whatever enhancements were made to the power circuitries of the notebook, MSI had the right formula. Clocking an astonishing 297 minutes uptime in MobileMark 2002 means fewer runs to a wall power socket to recharge and this is especially for a user on assignments abroad and living out of a hotel room as battery life would be his primary concern. In this aspect, the MSI MEGABOOK M510C is truly a notebook that exudes the Centrino's long battery life image and there are plenty of reasons why buyer should consider MSI MEGABOOK M510C, both for pleasure and work.
Quote from original text
"...The 875P Neo FISR from MSI is still the best board your money can buy! When it comes to the older socket 478 Pentium 4 processors running at 800MHz FSB. The 875P Neo board comes with MSI's Core Cell chip that allows on the fly over clocking, power saving and real time diagnosis of critical system parameters such as temperature and fan speed. The board is packaged to the gills with features, and delivers excellent performance....."