[Taipei, Taiwan] The largest event in global gaming and digital entertainment industry, ChinaJoy 2016 (China Digital Entertainment Expo & Conference) is now opening its doors to the guests at China Shanghai New International Expo Centre annually through July 28 to 31! MSI, the world's leading gaming brand, is becoming the highlight of the exposition with huge crowds gathering around its VR zone to experience the revolutionary VR technology. "MSI keeps breaking the boundaries of PC gaming with the up-to-date VR technology, and MSI is the 1st VR-ready brand being officially certified by HTC, INTEL, and NVIDIA." Eric Kuo, MSI Vice President of Global Sales & Marketing confidently said, "MSI VR-ready products immerse gamers in digital worlds and enable gamers to experience gaming at its most intense."
ChinaJoy 2016 is not just an ordinary game show; it contains a comprehensive gaming and digital entertainment that represents current technology. Visitors can experience all the brand-new games, and take a look inside the future life trends. MSI's iconic color black & red permeated through the entire booth visual. The MSI Gaming G Series Dragon Shield became a landmark for gamers looking for MSI. Visitors were greeted by an all-inclusive gaming lineup that meets the needs of all types of gamers.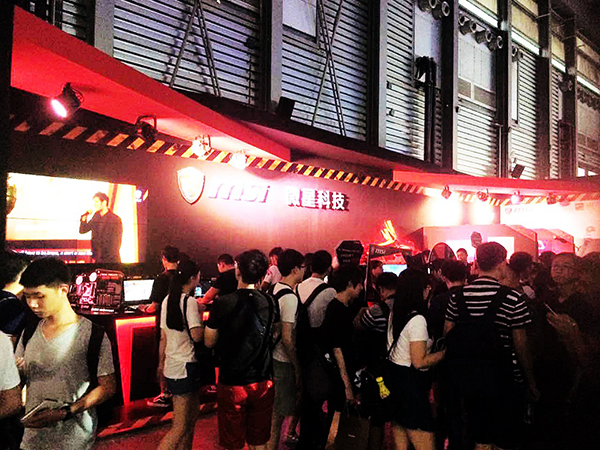 A large crowd of people at MSI booth VR zone.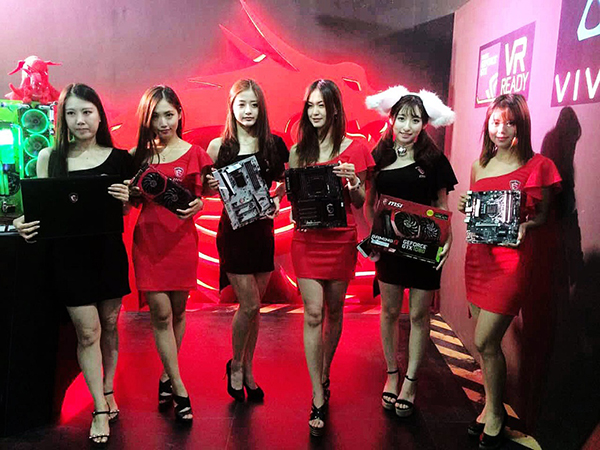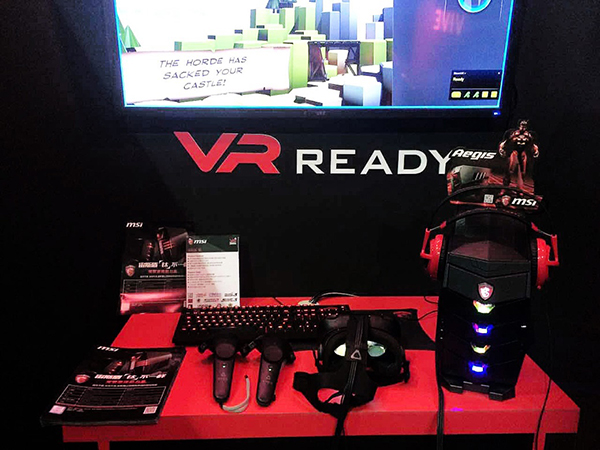 MSI is absolutely the focus of attention at ChinaJoy 2016.
MSI Vortex G65 SLI: VR-Ready Gaming Desktop with Astronomical Performance
The world's smallest gaming cylinder, the MSI Vortex G65 SLI is a VR-ready gaming PC designed to fit anywhere. Potent yet small, the MSI Vortex G65 SLI is only about 6.5L, and comes packed with power utilizing an unlocked Intel® Core™ i7 6700K processor, dual NVIDIA® GeForce® GTX 980 SLI graphics for blistering fast performance, and a 360° Silent Storm Cooling design for superior performance under the most intense gaming sessions.
MSI Aegis Ti: VR-Ready Gaming Desktop with Supreme Power
The MSI Aegis Ti, uses a powerful unlocked Intel® Core™ K-series processor to give gamers ultimate overclocking abilities. On top of that, MSI Aegis Ti houses two MSI's recently released MSI GeForce® GTX 1080 graphics card, to give more power. With this 2-way SLI setup, it can double the GPU power for more details and support gamers with the best possible graphical performance for a 4K or best VR gaming experience. Besides all extreme hardware, MSI Aegis Ti harnesses the MSI Aegis series breathtaking case design that is unmatched and easy to upgrade. Coupled with its own Silent Storm Cooling 3 solution, not only the performance but also its unique interior layout is unmatched and provides gamers with a top-notch performance.
Booth Info
Date: July 28 Thursday to 31 Sunday, 2016.
Venue: Shanghai New International Expo Centre (SNIEC), Shanghai, China.
Booth: Hall E7, Booth 081.
Follow ChinaJoy at
http://2016.chinajoy.net/Home/Index
MSI YouTube:
https://www.youtube.com/user/MSIGamingGlobal
MSI Facebook:
https://www.facebook.com/gamingmsi
MSI Twitter:
https://twitter.com/msitweets
For more information about MSI's complete line of award winning products, please visit
www.msi.com