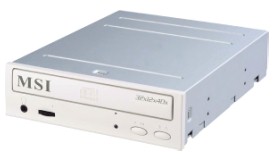 To better serve the E-Generation for stable data access, MSI™ introduces the 32x/12x/40x E-IDE interface CD-RW Drive "StarSpeed MS-8332" , to meet users' high speed desires.
The StarSpeed MS-8332 32x/12x/40x CD-RW Drive is designed based on a 'pull-try' design, the front panel provides on/off (stop), volume, headset port, and emergency eject functions.
Main product features are as follows:

Geared by ExacLink™ Technology with 2MB built-in buffer size to avoid any data damage or loss during the burning process due to bad recording, ExacLink™ eliminates buffer under-run errors, the major cause of un-readable discs. It allows error free high speed writing in slow PC systems. It leaves you free to browse the web or perform other tasks on your PC while your CD is being recorded. ExacLink™ eliminates the need for larger drive buffer sizes.
Multifunctional data storage devices: 32 X CD-R Writing / 12 X CD-RW Re-Writing / 40 X Read
Auto Flash Memory Upgrade: Optimize performance and extend life of the drive.

EAC: Enhance Adaptive Control monitor for accuracy when writing.
AWSS: auto balancing and anti-vibration system.

Use ROPC technology to increase recording stability.

E-IDE/ATAPI UDMA 33 interface, no need for complicated system configuration, just easy plug & play. It also supports many forms of recording disc format, and customers don't need to purchase extra SCSI to play the recorded CD.

Front Panel playback function, use software-less to play your CD

Provides emergency eject

Compatible with many PC operating systemsˇGMS-DOS, WindowsR XP/ NT/ Me/ 2000/ 98SE/ 98/95

Supports easy plug & play function

Free Nero burning software & 1 blank CD-R disc & 1 CD-RW disc
For more details on StarSpeed MS-8332 32x/12x/40x CD-RW Drive, please link to ()