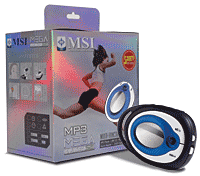 For specifications, please click here
MSI, the emerging innovator in digital entertainment, today unveils its new MEGA PLAYER 521 multi-functional portable audio device. The latest addition to MSI's successful MEGA series, the new MEGA PLAYER 521 combines MSI's unique style with many advanced features such as integrated FM tuner, Voice and FM recorder, 256 / 512 MB of internal memory and the ability to transfer MP3 files from your PC with no required drivers.
Possessing a sporty look, the MEGA PLAYER 521 is also highly functional and durable. The tough rubber cover protects the MEGA PLAYER 521 from shock and damage. It also features SRS WOW surround effect, USB 2.0 transfer speed, clear OLED display, and other integrated functions.
The MEGA PLAYER 521 is designed to bring users the best in digital entertainment. A small player that packs a BIG punch! The MEGA PLAYER 521 boasts many advanced features such as MP3 playback, FM tuner, voice/FM recording function, and language learning tool. It also provides up to 18 hours battery life provided by the internal Li-ion battery.
The MEGA PLAYER 521 provides fantastic features you need for that exhilarating musical and sporty experience. Aside from enjoying your favorite tunes, you can keep in shape with its integrated functions such as stopwatch, step counter, and calorie counter.
The MEGA PLAYER 521 is great for everyone, from youngsters who seek audio entertainment to businessmen who need the voice recording function and data storage.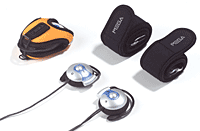 Below are some of the great features you can find in this "mini wonder":

USB Storage Disk


256 / 512 MB flash memory on board


MP3 / WMA + DRM music playback


Voice Recorder ( WAV format)


Language Learning ( A-B buttons)


FM Radio / Recording Function ( WAV format )


Support 15 FM channel memory


Stylish OLED display ( 128 x 64 pixels)


Re-chargeable Li - ion Battery (18-hour playback time)


MP3 Player:
The most easy-to-use, high-fidelity MP3 and WMA player, the MEGA PLAYER 521 provides customized sound with 5 EQ Modes (Normal, Rock, Jazz, Classic, POP) and gives the user up to 18-hour* non-stop playing time just using the internal Li-ion battery.

Use MEGA PLAYER 521 as a portable USB Mass Storage:
With the built-in flash memory, it can be used as a portable USB Mass Storage and you can easily share your music, photos and documents anywhere.
FM Radio and FM Recorder:
Record directly from the built-in FM radio, so you will not miss any of your favorite programs.

Digital Recording Function:
The built-in microphone is perfect for capturing ideas, dictating memos and saving reminders anytime, anywhere.
Stylish OLED Display Panel:


Despite its small size, it shows you all the information you need such as EQ setting, battery status, track duration and more. The OLED Display is useful in dark environment. The display is capable of recognizing text displayed in many languages including English, Chinese, Spanish and French.

Language Learning Function (Select the replay section):
You may choose to replay the content of the recorded course, and select a section for continuously replay and learning -- it functions like a mini-language learning device.
SRS WOW Surrounding Sound
SRS WOW stereo sound enables you to enjoy the same excellent sound quality from your MP3 player as you do from stereo speakers.
* Play time may vary depending on volume level, type of battery and headphones used