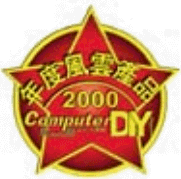 The 649D Pro dual-CPU Motherboard from MSI™ has been the hotshot of professional media magazines ever since its introduction to the market, and it is no surprise to receive the Product of the Year 2000 award from the Computer DIY, Taiwan, this December.
A Socket 370 and ATX architecture, 694D Pro supports all Intel® Celeron™/Pentium® II (FC-PGA) processors up to 800MHz. With one AGP, one AMR, four DIMM, five PCI and one ISA slots, it supports a maximum of 1.5GB SDRAM memory, which make 649D Pro an ideal choice for both server and workstation PCs.
Dual-CPU has always been the focus of players, the design enhances the time pulse of execution and consolidates the parallel calculation of multiple CPUs. It is also the central of information science researches.
Editors of the Computer DIY wrote, despite the abundance of expansion slots, superb stability and efficiency, the additional product features and the attractive price of 694D Pro are convincing. The peculiar CPU core voltage control enables users to adjust both the voltage and frequency of CPUs from the BIOS for overcurrent and overclocking to facilitate system operation at the best conditions. Therefore, it deserves a Product of the Year award.