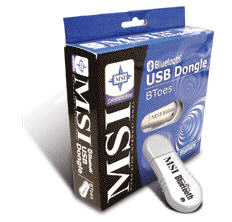 MSI is launching its newest Bluetooth USB Dongle. Actually, MSI has been developing the Bluetooth technology for over two years; therefore, its related technology and products are already technically advanced. Although MSI used to adopt bundling strategy to sell its Bluetooth products with motherboards, right now, MSI aggressively redirects its strategy by selling single package products to grab a larger share of the Bluetooth market in the global market.
Now, MSI and Nokia have agreed to sell and market the MSI BToes product as part of the N-Gage accessory portfolio. The MSI Bluetooth USB Dongle has been tested for N-Gage game decks by Nokia. MSI will undoubtedly provide users a perfect wireless experience through its high-quality and high-tech Bluetooth USB Dongle.
Utilizing the USB 1.1 interface, the MSI Bluetooth USB Dongle can be easily installed and connected to any Bluetooth devices such as cellular phones, headsets, and keyboards. Moreover, this amazing product also enables computers to link with one another. Enjoy an easy and wireless life with MSI Bluetooth USB Dongle.
If you need more product info, please contact marketing@msi.com.tw