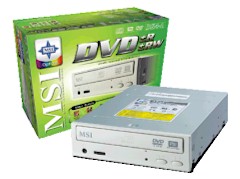 Dual-format DVD writers have begun their surge on the retail and OEM market. Not only made by the optical drive purists anymore, DVD writers have become faster and much more affordable. While we continue to hobble on waiting for a DVD writing standard, the simple approach is to manufacture drives that support both technologies. Since all DVD writers support CD-R/W writing with very acceptable speed ratings, dual-format drives offer very attractive single-drive solutions to cover your entire optical storage needs.
MSI DR4-A
MSI brings dual-format capability with CD-R functionality to your ATAPI bus with the DR4-A writer. The retail kit comes bundled with Nero Burning ROM and another program from Sonic Software called "MyDVD" which lets you create DVD movies and Video CDs. Video editing software named "ShowBiz" is included on the MyDVD disc while a DVD Video player is included on the NERO disc. A 4-pin audio cable, four mounting screws and a couple pages of installation literature are the other accessories that ship with the DR4-A.
Since there is nothing overly complicated about installing a DVD writer, the entire installation process is as easy as bolting the drive into your enclosure, and connecting the IDE cable and 4-pin MOLEX power cord. While DVD mastering all depends on the software you choose, the NERO Burning ROM that ships as a bundle with this drive is very user friendly and full of powerful features. For simple compatibility, I used Roxio Easy CD/DVD Creator 6 and created a DVD data disc which worked flawlessly in two other DVD-ROM drives.
. 4x DVD+R write / 2.4x DVD+RW rewrite
. 4x DVD-R write / 2x DVD-RW rewrite
. 12x DVD-ROM read
. 24x CD-R writing / 10x CD-RW rewriting
. 40x CD-ROM reading
. BURN-Proof? buffer underrun protection
. Supported over-burn feature
. Supported 99 (870MB) or 90min (800MB) CD-R
. Supported 8cm or 12cm disc diameter
. 8MB internal buffer
. Firmware upgradeable
. Enhanced IDE/ATAPI interface
. PIO Mode 4, DMA Mode 2 and UDMA Mode 2
. Horizontal and vertical operation
. optimum power control
. DVD+R write speed at 2.4x and 4x
. DVD+RW write speed at 2.4x
. DVD-R write speed at 1x, 2x and 4x
. DVD-RW write speed at 1x and 2x
. CD-R write speed at 4x, 8x, 16x, 20x and 24x
. CD-RW write speed at 4x and 10x
. HD-BURN CD-R write at 6x, 12x, 16x and 24x
Conclusion
For users looking to do standard CD and DVD burns, this MSI drive is quite an outstanding device. The price of the DR4-A is certainly attractive. It is in NO way short on features. The DR4-A has a HUGE 8 Megabyte buffer and displayed SEAMLESS video playback, even on a DVD that had been purposely scratched. The standard buffer under-run protection is present for CD-R/W functions, but the drive doesn't support Mount Rainer. While the included software bundle is more than adequate to begin DVD and CD mastering immediately, the ATAPI bus guarantees compatibility with almost all of your own favored brand of mastering software.
Club Overclocker Rating

Innovation:
9 out of 10
Performance:
9.5 out of 10
Quality:
9.5 out of 10
Stability:
N/A
Overclocking:
N/A
Software Pack:
9 out of 10
Value:
9 out of 10

Overall Rating 9.0
Source from the www.cluboc.net
(http://www.cluboc.net/reviews/drives/burners/msi_dr4a/index.htm)