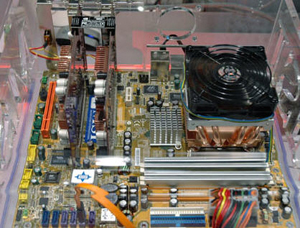 MSI's nForce4 For Pentium 4 With Soft SLI
What makes the nForce 4 board P4N Diamond from MSI different from the competition is that the switching between SLI and single graphic mode is no longer mechanical. In addition, the manufacturer has tried to make the cable lengths between the Northbridge and the memory sockets as short as possible - all to make for optimum over-clocking. MSI says it has already reached 860 MHz memory speed in dual-channel mode in the lab. If only one DIMM is used, it can even be 900 MHz. Those are numbers that make you sit up and take notice. Even so, MSI believes nForce4 for P4 is capable of more than Intel's upcoming 955X chipset ...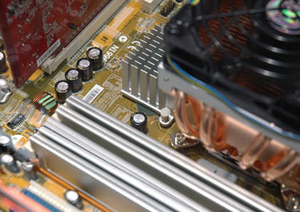 Short signal paths between Northbridge and memory sockets make for good over-clocking properties.
K8N Neo 4's Dual PCI Express Or X4 Slot
The K8N Neo 4 stands out mainly because of the combination of four PCI Express slots in one x4 connection. It can be used either for corresponding expansion cards, such as SATA or SAS RAID controllers, or for a second PCIe graphics card. The slot was left "open" at the end to make the x16 plug-in card insert easily. MSI thus enables SLI capabilities on this board, based on the considerably cheaper nForce4 Ultra chipset.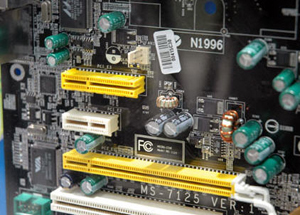 Robotic Control Via Bluetooth
As a nice side gimmick, MSI introduced a little robot that can be controlled via Bluetooth from a mobile phone.
The MegaPlayer 530's Audio Playback And USB OTG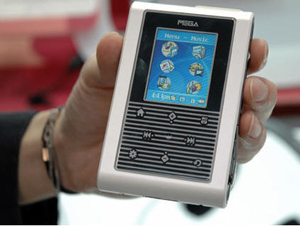 MSI is throwing itself increasingly into multimedia products. The MEGAPlayer series is begetting offspring these days: MEGAPlayer 530 now has an 1.8" display and a 5 GB hard drive in a 1" format. It plays back MP3s and WMV files of all common bit rates. JPEGs and M-JPEGs can be viewed with the display. The truly winning feature, however, is the USB 2.0 interface that lives up to the on-the-go principle: pictures from a digital camera can be directly transferred to the MEGAPlayer 530. This application only makes sense with low and medium resolutions, because the 5-GB hard drive probably fills up quickly when there are lots of pictures with multiple mega-pixels. The memory of the MP530, however, can also be expanded via a SD card slot.
MegaPlayer 567: Multitalented In Audio/video. Available With GPS Starting Mid-year
The next degree of comparison is the MEGAPlayer 567, which is larger and consequently capable of more. You can almost imagine the features: playback of all important video and audio formats, including MPEG-4/DivX, WMV9, MPEG-1/2, MP3, WAV, WMA and ADPCM. In addition, video can be recorded in MPEG4 and audio in MP3. The 7" display now provides acceptable viewing of video data. A 2.5" hard drive with up to 80 GB is used for storage. Via the integrated USB interface, it can also be used as an external storage device for a regular computer.
As an option for future models, MSI is currently considering integrating a GPS receiver module that would enable dynamic route navigation without difficulty. But, would the video playback work at the same time? Could we have perhaps discovered an application for multi-core mobile processors like the Xscale?
There They Were: Turion Notebooks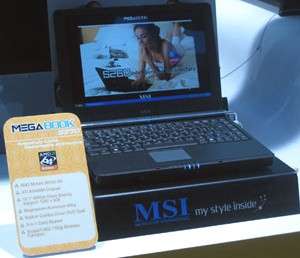 MSI's 12.1" thin-light notebook, the S270, will also be available with Turion
That even a typical motherboard manufacturer like MSI is offering a Turion device, or even notebooks to begin with, may surprise some readers. But this just shows another trend - or more fittingly - a necessity for the top five motherboard manufacturers, i.e. to counteract the rapidly shrinking margins in motherboards by expanding the product range.
Only one new SFF could be found at MSI this year. Although the new Mega-PC is still based on the older i865G chipset, it supports the P4 for socket 775 in the CPU. But that is not completely new, because Shuttle had this on display last year already. The MSI computer has a big display in front, which functions as a synthesizer when audio is being played back.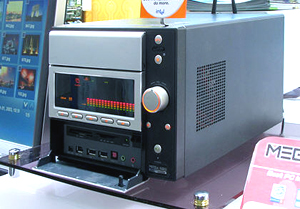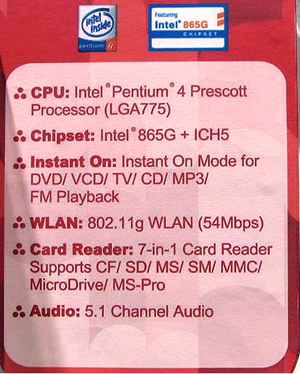 Source from the tom's hardware guide
(http://www20.tomshardware.com/business/
20050314/cebit_2005-08.html)