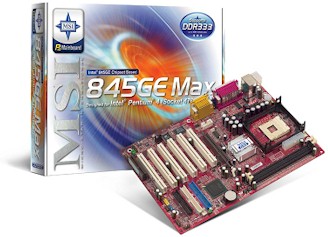 845GE Max P4 DDR motherboard is a new member of MSI™'s Pentium® 4/533MHz range. It's designed for the latest Pentium® 4 processors at 533MHz with MSI™'s powerful and quick R&D capability.
By integrating the latest 845GE integrated chipset from Intel® to the USB 2.0 ICH4 south bridge with MSI™'s exclusive optimization technology, 845GE Max supports the latest Pentium® 4 processors at 533MHz and the maximum of 2GB of DDR333 (PC2700) SDRAM with two DDR DIMMs. Huge data transfer is speed up between the system and USB 2.0 devices with a transfer rate of 480Mbps, which is 40 times faster than that of USB 1.1.
Besides one AGP 4x slot and six standard PCI slots, 845GE Max is equipped with 10/100Mbps Ethernet LAN controller (Optional) for network connections. Advanced users may add MSI™'s exclusive D-Bracket™ 2 module (Optional), Live Update™ 2 and Fuzzy Logic™ 4 utilities to facilitate hardware operation and maintenance and enhance the overall performance of 845GE Max.

Hyper-Threading Technology ---
845GE Max comes with the latest and revolutionary Hyper-Threading technology from Intel® which enables multiple thread execution on individual processors to extensively enhance transaction rate, reduce response time, and improve the performance of commercial and e-commerce applications.

PC2PC™-Bluetooth (Optional) ---
MSI™'s wireless kit PC2PC™-Bluetooth (optional) allows users to enjoy wireless communication with mobile phones, DVs, PDAs and Notebook PCs equipped with Bluetooth functions and even deploy a wireless LAN with platforms offering PC2PC™-Bluetooth functions.

D-Bracket™ 2 (Optional) ---
this hardware debugging module allows users to locate common system errors with 16 combinations of LED indicators for quick troubleshooting without opening the case.

Live Update™ 2 ---
it integrates MSI™'s Live BIOS™, Live Driver™, Live VGA BIOS™, Live VGA Driver™ and Live Utility™ into one single utility for automatic BIOS and Driver update. Advanced users may set the time for automatic BIOS, Driver and MSI™ Utility updates and receive the latest information about MSI™ products and activities to enjoy support from MSI™.

Fuzzy Logic™ 4 ---
this optimal speed adjustment utility allows advanced users to adjust CPU clock speed, ratio and Vcore of AGP, either manually or automatically, for optimal system performance.

i-Speeder™-
it selects the optimal connection speed for cable modem or xDSL devices with Internet connection monitoring and system clock alignment over the Internet.