As the world's leading PC Motherboard and VGA Card Design/ Manufacture company, Micro-Star International (MSI™) is proud to announce that our Information Appliance department will be showing a few new and exciting products during CeBIT 2003 -- a showcase of innovative devices and solutions, as well as a forum for new ideas and revolutionary thought.
MSI™'s products are well known for their superior quality. Our R&D Department is dedicated to product research, development and design, aiming to bring high quality products to our customers. We will be showing two major product lines, the Set-top-Box product line and the Mobile devices product line, at the show. The focus will be on great designs and enhanced feature sets -- including PenNote3100/3200 (MS-2831/MS-2832) Pen Tablet PC/ Tablet PC ,MS-3020 iVOD Set-Top-Box, MS-3281 Home Media Center and MS-2851 Smart Display.

PenNote 3100/3200 (MS-2831/MS-2832):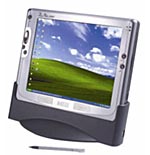 The PenNote3100/3200 represents a new level of innovation and the most exciting new product launch of the year from MSI™. The PenNote3100/3200 is powered by a 1-GHz CPU and comes with Microsoft Windows® XP Home Edition / Microsoft Windows® XP for Tablet PC Edition and a 10.4" TFT LCD screen with touch panel / Digitizer function. The installed handwriting recognition software can recognize user's handwriting and convert to text accurately. With the build-in 802.11b WLAN or Bluetooth feature, you can be productive in anywhere at your desk, in a meeting, or on the go and still staying connected. The PenNote3100/3200 is light weighted with stylish look. It delivers long battery life and comes with a flexible docking solution for other occasions.
MSI™ iVOD (MS-3020):


MSI™ iVOD Set-Top-Box, equips with an integrated Cirrus Logic CS7808 SOC processor, MPEG decoder, 10Base-T Ethernet controller, v.90 S/W modem, Smart card reader, and Dual USB sockets, is a perfect VOD client box to meet your requirement for low cost,best decoding and display quality, and IP multicasting.
The MSI™ iVOD Set-Top-Box comes with a remote control, a wireless keyboard, and a power adaptor; and supports various middleware and media application from third-party S/W developers to meet your needs.

MSI™ Home Media Center (MS-3281):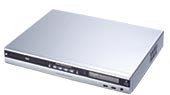 The newly developed MSI™ Home Media Center & Gateway, equips with powerful x86 CPU, two Ethernet controllers, MPEG decoder (optional PVR module), DVD player, Hard Disk, and high quality TV encoder. It is designed to be the center of your home entertainment and broadband gateway. Functioning as a VOD server, the MSI™ Home Media Center & Gateway supplies its PVR content, DVD content, and Internet content to each client in different room through video capable network established in the house-- no more fumbling with multiple remotes. The built-in function of the MSI™ Home Media Center & Gateway is very innovative and user-friendly. It is easy to use the Media Center remote control to control and pause TV, browse the Electronic Program Guide, record your favorite shows, play music, flip through pictures, watch home movies, or play DVD movies, the MSI™ Home Media Center & Gateway will sure bring you a whole new personal home entertainment experience.

MSI™ Smart Display (MS-2851):



MSI™ Smart Display, another innovation from MSI™, equips with an Intel xScale CPU, Microsoft Windows® CE and a built-in 802.11b WLAN, extending your Windows® XP experience to a portable, and decent Smart Display. The MSI™ Smart Display houses a 10.4-inch TFT LCD display and weighs only 2.2lb. MSI™ Smart Display offers excellent quality of display and fits comfortably into your arm.
All in all, the CeBIT 2003 is a great deal to see and enjoy. Please mark your calendar and plan to visit MSI™ at suite from Mar.12 to Mar. 19. We look forward to seeing you there and showing you all our wonderful products.