News
MSI Indonesia launched 2015's latest notebook products with lively activities
Latest Update: Tue, 24 Mar 2015
[Jakarta] MSI—a gaming-focused company launched its latest gaming notebooks in Novotel, Jakarta. Around 100 guests, including media, gamers, and dealers joined the event.
MSI displayed a full product line of gaming notebooks and mobile workstation, including GT80 Titan SLI—the world's first notebook with a full mechanical keyboard; GS30 Shadow—an 1.2KG 13.3" ultra-notebook-like notebook which you can easily carry with and connect it with a GamingDock when you need performance.



The event opened with a warm welcome from Mr. Jonathan as NVIDIA Field Support Representative.
Followed by Jerry Lu—Country General Manager of Singapore/Malaysia/Indonesia— who officially opened the event and stated that Indonesia will become another successful market of MSI.
Mike Hsieh, Sales and Marketing Director of Indonesia, also said that MSI will always provide and present what gamers needs.
Regional Marketing Manager Green Lin presented the story of MSI Gaming and reasons of "MSI, No.1 in Gaming".
Fram, Senior Marketing Specialist, together with Nixia of NXA Ladies elaborated the latest features in GT80 Titan SLI, GS30 Shadow and its GamingDock, and GE62 Apache Pro.



A fresh and stunning live presentation of sand animation then brought the event to a highlight: introducing GT80 Titan SLI, the world's first notebook with a full mechanical keyboard!
Watch the full Live Sand Art Animation here : https://www.facebook.com/video.php?v=710513295736554&set=vb.268271373294084&type=2&theater


To thank its best partners in Indonesia, MSI gave awards to NXA Ladies and Phoenix E-Sports Arena, who has been partners with MSI for more than a couple of years and together they thrive Indonesia's esprts community!
"Treasure Hunt"—a series of side activities encourged people to experience some stunning features of MSI notebooks.


Moreover, a Photo Booth preserved some best memories for all guests!
The event received a warm welcome and appreciation from various parties, especially media and gamers.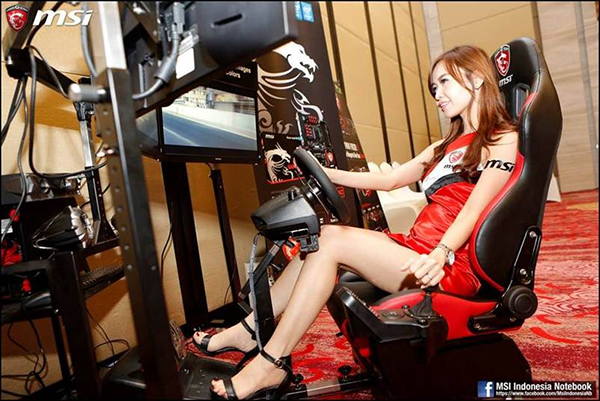 Event highlight video
https://youtu.be/HFT-S7J56Ik

Live sand animation and introducing of MSI GT80 Titan SLI
https://www.facebook.com/video.php?v=710513295736554&set=vb.268271373294084&type=2&theater

Video report & GT80 hands-on
Pemmz Channel: https://www.youtube.com/watch?v=yaa2TSa9OXA&t=27

Facebook Photo Documentation
https://www.facebook.com/media/set/?set=a.707193066068577.1073741842.268271373294084&type=3


Media Coverage
(More coverage on print media will be published on April)

Video Games Indonesia : http://vgi.co.id/site/pages/read/03/2015/msi-resmi-perkenalkan-gt80-titan-untuk-gamer-di-indonesia-2699
Indogamers : http://www.indogamers.com/read/04/03/2015/10606/msi_gt80_titan_sli__notebook_gaming_dengan_keyboard_mekanik_resmi_hadir_di_indonesia/
Tabloid pulsa : http://www.tabloidpulsa.co.id/news/20206-msi-luncurkan-jajaran-notebook-gaming-termasuk-gt80-titan-sli
Pemmz Channel : http://www.pemmzchannel.com/2015/03/05/msi-resmi-luncurkan-gt80-titan-sli-ultrabook-dengan-gamingdock-di-indonesia/
Nyit-nyit.net : http://www.nyit-nyit.net/threads/msi-gt80-titan-sli-notebook-gaming-dengan-keyboard-mekanik-resmi-hadir-di-indonesia.165229/
GameQQ.Net : http://www.gameqq.net/news/9676-msi-gt80-titan-the-beast-from-g-series
Trenologi : http://www.trenologi.com/2015030459635/laptop-gaming-ber-keyboard-mekanik-pertama-dunia-msi-gt80-titan-tiba-di-indonesia/

Rilisiana : http://www.rilisiana.com/msi-luncurkan-jajaran-notebook-gaming-dan-mobile-workstation-terbaru-2402/
Paling aktural : http://palingaktual.com/1509402/laptop-gaming-kelas-ningrat-msi-gt80-titan-sli-hadir-di-indonesia/read/
Jagat Review : http://www.jagatreview.com/2015/03/msi-gt80-titan-sli-hadir-di-indonesia/
Jagat Review 2 : http://www.jagatreview.com/2015/03/penampakan-msi-gs30-2m-shadow-dengan-docking/
Info Komputer : http://www.infokomputer.com/2015/03/berita/berita-reguler/notebook-gaming-msi-gt80-titan-hadir-di-indonesia/
Hardware Boost : http://www.hardwareboost.com/msi-luncurkan-laptop-gaming-highend-gt80-titan-sli/
Gudang gaming.com : http://www.gudanggaming.com/hardware/msi-launching-produk-terbarunya-di-tahun-2015
Spdi.eu : http://www.spdi.eu/penampakan-msi-gs30-2m-shadow-dengan-gaming-dock/
Droidlime : http://www.droidlime.com/artikel/msi-gt80-titan-notebook-pertama-dengan-keyboard-mechanic.html
Teleplus.co.id : http://www.teleplus.co.id/2015/03/04/msi-hadirkan-jawara-baru-gt80-titan/
Black xperience : http://www.blackxperience.com/technews/detail/msi-hadirkan-notebook-gaming-pertama-berfitur-mekanikal-keyboard
Nixiagamer.com : http://nixiagamer.com/peluncuran-msi-gt80-titan-sli-di-indonesia.html

Nixia's Twitter:
https://twitter.com/Nixia/status/573532141847343104
https://twitter.com/Nixia/status/573437523059437568
https://twitter.com/Nixia/status/573083410287099905
https://twitter.com/Nixia/status/572677627867234304


Nixia's Instagram:
https://instagram.com/p/zzdhBgFOqv/
https://instagram.com/p/z37MNtlOo9/?taken-by=nixia