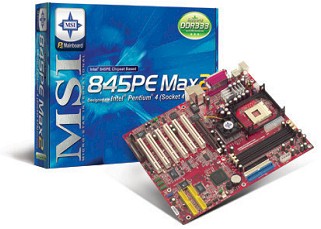 To match up the debut of Intel® latest DDR333-supporting chipset - 845PE on October 7, 2002, MSI™ launches the new Pentium® 4 motherboard, 845PE Max2, at the same time.
MSI™ 845PE Max2 motherboard is made with the latest Intel® 845PE chipset and MSI™'s exclusive technology for optimizaion. The major focus of this board is to support the latest Intel® Pentium® 4 processor with the front side bus of 533MHz, DDR333 (PC2700)/DDR (PC2100) SDRAM technology.
The south-bridge chipset uses ICH4 including USB2.0 and the audio function. End users can select the optional feature of IEEE 1394 for all peripheral devices. The board comes with 3 DDR DIMMs for supporting 2GB memory capacity and another optional feature of 10/100/1000 Gigabit LAN, which makes the board integrated with the latest and more powerful LAN function.
Except the high memory bandwidth, the dual-channel ATA133 RAID function is also a critical option to dramatically increase the overall system performance on data transmission. The driver planning of RAID 0 (Stripping) or RAID 1 (Mirroring) can enable the system with more performance and security.

Other than that, MSI™ 845PE Max2 also comes with 1 pieces of 4X AGP slot and 6 pieces of PCI slots. If gamers use the motherboard with some of MSI™'s user-friendly designs, such as D-Bracket™2 (Optional), Live Update™2, Fuzzy Logic™ 4 and PC Alert™ 4, it will be much helpful to run or maintain the system well. In order to meet some sound enthusiasts' requirement, the board is also integrated with AC'97 5.1-channel sound effect, which can allow end users to get their system with 6 pieces of surround sound speakers to set up the home theater. No matter playing 3D Game or DVD, this particular motherboard will bring users the high-quality enjoyment.
MSI™ 845PE Max2 motherboard provides several MSI™ unique features to add on the value:


Hyper-Threading Technology ---
It's a groundbreaking innovation from IntelR Corporation that enables multi-threaded software applications to execute threads in parallel within each processor. HT Technology provides thread-level-parallelism (TLP) on each processor resulting in increased utilization of processor execution resources. This technology is largely invisible to the platform. In fact, many applications are already multi-threaded and will automatically benefit from this technology.

PC2PC™-Bluetooth (Optional) ---
Gamers can install the Transceiving Module on board, which is able to connect some Bluetooth-enabled mobile phone, DV Camcorder, PDA, Laptop and etc. Meanwhile, gamers can purchase another Transceiving Key for any other PC or Laptop with USB ports to easily set up a wireless LAN.

D-Bracket™ 2 ---
Error-detecting module: without removing the chassis, this unique feature can easily help you to debug the common system problems through 16 sets of diagnostic lights.

S-Blacket™ (Optional) ---
Total-function audio module: the module is embedded with SPDIF for Optical Fiber and Coaxial to support all 5.1-channel audio functions.

Live Update™ 2 ---
BIOS and Driver auto upgrade: the exclusive tool integrates 5 sets of online BIOS and driver update programs for motherboards and graphics cards: Live BIOS™, Live Driver™, Live VGA BIOS™, Live VGA Driver™ and Live Utility™. Working with Live Monitor™, end users can setup themselves the schedule for update and also receive some latest product and activity information at the same time.

Fuzzy Logic™ 4 ---
Extremely Overclockability: end users can automatically or manually adjust the CPU clock to optimize the CPU speed, AGP ratio and Vcore to speed up the VGA card for the best system optimization.

PC Alert™ 4 ---
Instant Monitoring: instantly monitor the stability of processor, cooling fan and voltage. The function can also do the multi-PC monitor (PC Alert™ III Server Version) to prevent the components from damage because of improper temperature and electricity pressure and make sure the system stability.

i-Speeder™ ---
Internet Connection Speed-up: optimize the internet connection speed of cable model or XDSL, monitor the connection status and allow users to adjust the system time through Internet connection.