News
The Best Choice for the Intel® Pentium® Processor G3258
MSI Motherboard Broke the World Record
Latest Update: Thu, 03 Jul 2014
(Taipei – Taiwan) The world's largest semiconductor manufacturer Intel®
officially announced the unlocked Pentium® 20th Anniversary Edition G3258 processor (nicknamed Pentium® K by enthusiasts) at the Computex Taipei 2014 where it was finally made available to the eagerly waiting commercial market. The world-renowned motherboard manufacturer MSI also officially released a new version of BIOS simultaneously, allowing all MSI Z97/H97 motherboards to fully support this new CPU. However, only the Z97 products can overclock this CPU. In addition, MSI persists in searching for the limit and has already broken the world record for the Pentium® 20th Anniversary Edition G3258 processor by reach 6816.7 MHz.
http://hwbot.org/submission/2560393_dfordog_cpu_frequency_pentium_g3258_6861.7_mhz
Moreover, MSI also made optimized BIOS adjustments for three motherboards that are widely popular among consumers, including Z97 GUARD-PRO, Z97-G43 and Z97 PC Mate.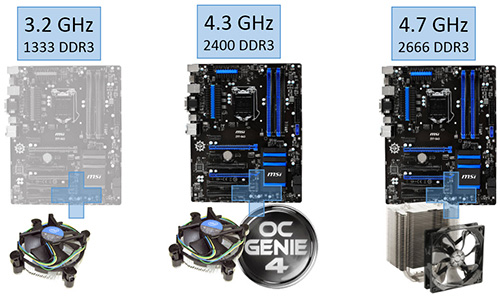 These motherboards are equipped with six-phase power control components, which are able to stably overclock the Pentium® 20th Anniversary Edition G3258 processor. They can automatically overclock the CPU to 4.3GHz from its original 3.2GHz through MSI's exclusive technology OC Genie 4, increasing its performance by 34%, so even a beginner will be able to overclock a computer stably to high performance through a single action without any complicated skills and configurations. The CPU can even be easily overclocked to 4.7GHz if a high-end air-cooling fan is used, boosting its performance as high as 45%. MSI Z97/H97 motherboards are equipped with Guard-Pro safety protections and Military Class 4 components.* These protections and components are rigorously selected and fully tested by MSI, and they are able to provide users with comprehensive guarantees and excellent stability. They are the best choices for utmost C/P value.
*The actual benefits may vary by model.


G3258 OC Genie Optimized Motherboard List:
| | | |
| --- | --- | --- |
| Model | BIOS Version | Download Page |
| Z97 GUARD-PRO | 1.3 | |
| Z97-G43 | 17.4 | |
| Z97 PC-Mate | 4.3 | |