News
MSI to Unveil All New GTX 770 Lightning and Gaming Graphics Cards at Computex 2013
Enthusiasts Ta
Latest Update: Sat, 01 Jun 2013
(Taipei - Taiwan) Computex, one of the annual highlights of the global computer industry, will be held from June 6 to 8, 2013. The leading international mainboard and graphics card maker MSI will unveil its flagship GTX 770 Lightning graphics card on the fourth floor of the Nangang Exhibition Hall (Booth No.: L0609) featuring its exclusive Unlocked Digital Power architecture that greatly boosts overclocking performance by removing card protection devices at one touch of a button. The card also uses the original patented GPU Reactor power back plate for improved overclocking stability. In the spirit of extreme innovation, MSI will reveal its GTX 780 Gaming and GTX 770 Gaming graphics cards based on NVIDIA's latest 700 series chipset. The Gaming series graphics cards combined with MSI's own Gaming APP tuning utility allows enthusiasts to balance performance with energy-efficiency by quickly switching between gaming, eco and default modes. "Airflow Control Technology" and Dual 10 cm fans together with patented Propeller Blade Technology provide the advanced Twin Frozr IV cooling system with even better heat dissipation. Military Class 4 components have been introduced this year as well to provide enthusiasts with a more stable operating environment. To learn more about the latest MSI products and advanced technologies, please visit the MSI booth to see them for yourself.

Choice of Champions - MSI's Flagship Lightning Graphics Cards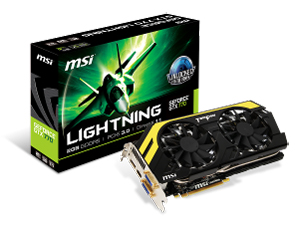 MSI has two Lightning graphics cards on display this year. Both the GTX 770 Lightning and R7970 Lightning BE feature the Unlocked Digital Power architecture incorporating Unlocked BIOS, digital PWM chip and an improved power supply design to significantly enhance overclocking potential. The patented GPU Reactor power supply back plate is a MSI innovation that provides the GPU core with higher voltages, lower power noise and improved overclocking stability. These alongside rigorously tested Military Class components and Twin Frozr IV cooling makes the Lightning card the best choice for extreme overclocking enthusiasts.

MSI Gaming Series for Great Gaming Experience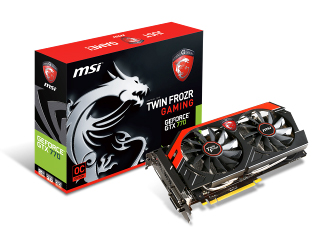 MSI is keenly aware of what gamers need and the new Gaming series based on NVIDIA's next-generation 700 series comes with MSI's own Gaming APP tuning utility. With just one press of the button, gamers can switch to high-performance gaming mode with improved cooling and silky smooth game play. In the ECO mode, the graphics card operates in a low power state to silence the fans for a comfortable Internet and working environment. The default mode resets the graphics card to factory default settings. The MSI Gaming series also comes with the free and powerful Predator video capture tool. Apart from supporting custom hot keys and video recording quality settings, it also supports dual track recording. Gamers can now add to the fun by becoming the commentator for their own games.



Twin Frozr Evolves for Better Cooling Performance
At MSI, R&D is a never-ending process. All of the Lightning and Gaming series products on display this year make use of the improved Twin Frozr IV cooling design. In addition to the existing Propeller Blade, Super Heat Pipe and Nickel Plated Copper Base Heat Sink technologies for superb cooling, unrivalled cooling performance was achieved by increasing the fan size to 10 cm for even lower noise and higher air flow. MSI's proprietary airflow control technology greatly improves cooling performance as well while keeping noise down. At MSI, products are constantly being refined to provide gamers with even more surprises!



All New MSI Military Class 4 Components for a More Stable Operating Environment
Military grade products are the staple of MSI design. The Gaming series the first to feature the latest Military Class 4 components to be MIL-STD-810G certified by a third-party laboratory by passing seven rigorous tests in simulated harsh environments for better reliability and quality. Gamers can trust MSI to provide absolute stability, better cooling, and more reliable power requirements with solid-state capacitors (rated for 10 years), next gen SFC, and Hi-C CAP with tantalum cores.