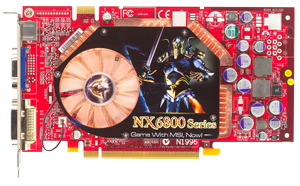 INTRODUCTION
MSI is excited about the potential that their NX6800-TD128E video card offers when paired in an SLI system. They claim that it outperforms a single 6800 Ultra while costing less. As of this writing, the NX6800-TD128E will only set you back around $225.

The NX6800-TD128E is built on the TSMC 0.11 micron process technology (NV42) as one would expect. This results in manufacturing cost savings over the NV41, default core clock of 325MHz, and impressive overclocking headroom as you'll soon see.
PACKAGING
MSI includes the full retail CD version of Far Cry. You also get a nice S-Video and RCA breakout box, S-Video cable, driver CD, DVI-VGA adapter, and a case badge sticker.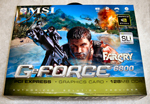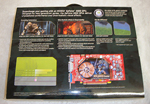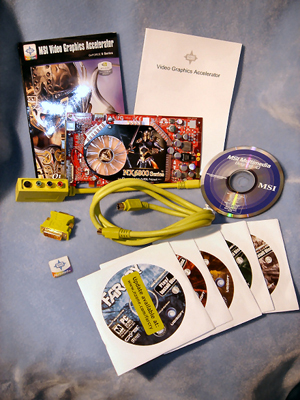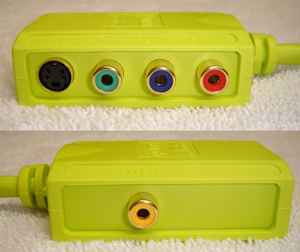 Component TV Out Breakout Box
Combined with the red PCB, the copper cooler really makes for a nice looking piece of hardware. And the clear fan adds to all of the copper you can see.
Being a single slot solution, the MSI NX6800-TD128E has no problem living side by side with its twin.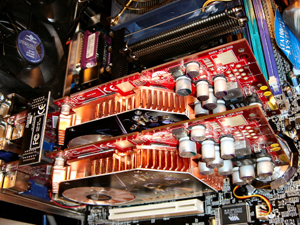 MSI NX6800-TD128E SLI Goodness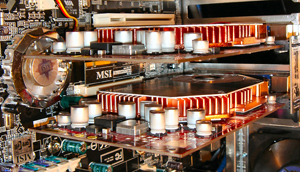 MSI NX6800-TD128E Plenty Of Room
CONCLUSION
The MSI NX6800-TD128E is actually quite an impressive card. In SLI, these cards maintained impressive average framerates across all benches @ 1600x1200 4xAA/8xAF. For Half-Life 2 the average was 38 frames per second and 44 frames per second when overclocked. For Doom 3 those averages were 36 and 45 frames per second respectively.

The exceptional solid copper heat sink that covers the GPU and memory make for an excellent overclocker. The fact that it can exceed the 350MHz default core clock of a 6800GT by 90MHz (440MHz) is impressive. And the memory performs admirably by coming close to reaching its 900MHz theoretical limit. Remember, all of this overclocking success was done on the default cooling as well. No Arctic Silver 5 was applied. The standard thermal tape pads is all that was between the memory and the heat sink.
I didn't really focus much on temperatures as these PCI-Express cards generally run at great temperatures anyway. I did make note that a single card idled in Windows at 39°C GPU and 31°C card ambient. Under load, the single card reached 55°C/38°C.
For SLI, the first card was 45°C/33°C and the second was 40°C/30°C at idle. Under load, the SLI first card was 60°C/40°C and the second was 55°C/36°C.
These cards really do shine in an SLI setup at their price point and will definitely give a 6800 Ultra PCI-E a run for its money. So, for some of you that don't have $600 lying around for a 7800GTX, two MSI NX6800-TD128E cards might be a viable alternative and one that won't disappoint for all.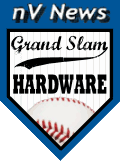 PROS:
Excellent overclocking ability

Huge solid copper heat sink covering GPU and memory

No external power requirements

Single slot design

Decent bundle

Great price-to-performance ratio

Excellent build quality
We have three award levels from good to best: base hit, home run, and grand slam. So, what did the MSI NX6800-TD128E get? The inaugural nV News Grand Slam Hardware award of course!
Source from the NV News.net
(http://www.nvnews.net/reviews/msi_geforce_nx6800-td128e_sli/)