Devastating army of gaming laptops, All-In-Ones, mobile workstations and components
on display at Aria Suites during CES 2015 from January 4th to 8th



Las Vegas – January 6, 2014 – MSI Computer Corp, a leading manufacturer of computer hardware products and solutions, blasts into 2015 with an award winning lineup of gaming solutions, including the GT80 Titan SLI, the world's first gaming laptop with an integrated mechanical keyboard; CES Innovation award recipient GS30 Shadow with Gaming Dock, GT72 Dominator Pro, AG240 4K All-In-One gaming PC, and X99A GAMING 9 ACK motherboard; along with a new and redesigned GE62 Apache for the next generation of MSI's GE Series gaming laptops and others.

"PC gaming is constantly evolving and our new lineup of battle machines are ready to take on any challenge," says Andy Tung, President of MSI Pan America. "We've thrown down the gauntlet with a selection of outstanding choices for every type of gamer."

Products showcased at MSI's Suites from January 4th to 8th include:


GT80 Titan SLI

The GT80 Titan SLI is the world's first gaming laptop with an integrated mechanical gaming keyboard featuring Cherry MX Brown switches and designed by SteelSeries. It's the first gaming laptop from MSI that come armed with dual NVIDIA GTX 980M GPUs in SLI, and allows user to easily upgrade components, including the dual NVIDIA MXM graphics cards when needed. It can also support up to 4x M.2 SATA SSDs in RAID 0, 32GB of memory, and includes a super-efficient dual fan cooling system drawing heat from both graphics cards and processor with its 8-heat pipe design.


GS30 Shadow + Gaming Dock (CES Innovations Honoree)

The ultimate gaming ecosystem, the GS30 Shadow and Gaming Dock is an insanely powerful gaming machine at home and an ultra-portable unit on-the-go. The GS30 Shadow measures only 0.77 inches thick, weighs less than 2.65 lbs. and is the world's 1st eGPU solution that supports desktop graphics with PCIe 3.0 x16 full bandwidth slot.


GE62 Apache

The next generation in affordable gaming laptops, the GE62 Apache features NVIDIA GTX 965M & 970M graphics, a dual exhaust system, SteelSeries gaming keyboard and more. MSI's GE62 highlights a completely new design that improves battery life by up to 46% when compared with previous models, weighs less than 6 lbs. and measures only 1.14 inch thick.


AG240 All-In-One 4K Gaming PC (CES Innovations Honoree)

The world's first All-in-One gaming PC with an Ultra HD 4K display, the AG240 4K Edition features a variety of cutting-edge gaming components including 3x mSATA SSDs at RAID 0, Intel's latest processor, NVIDIA GeForce 900M Series GPU, and MSI's Anti-Flicker and Less Blue Light technology.
AP16 Flex All-In-One PC

The AP16 Flex is not your typical AIO PC, it is easily interchangeable between an All-in-One PC or as a tablet PC. Its unique rotating kickstand can be flipped back 90 degrees to serve as an upright stand for use as an All-in-One PC or it can be attached to a wall for using it as a large display tablet. Based on Intel's Bay Trail J1900 Quad Core Processor and by using an LED backlight panel and fanless design, the AP16 Flex perfectly suits both commercial and household environments.



X99A GAMING 9 ACK Motherboard (CES Innovations Honoree)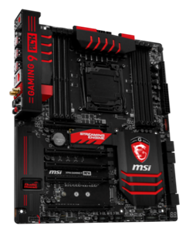 The International CES Innovations 2015 Design and Engineering Awards Honoree motherboard, MSI's X99A GAMING 9 ACK, is the world's first motherboard to feature USB 3.1 for insane transfer speeds and Killer DoubleShot Pro technology combining Killer LAN and Killer Wi-Fi AC. Additionally, the X99A GAMING 9 ACK motherboard is packed with an arsenal of features such as Streaming Engine, Turbo M.2 32 Gb/s, Audio Boost 2, 4-way SLI support and much more.


World's first USB Type-C motherboard – Z97A Gaming 6

The new MSI Z97A GAMING 6 motherboard is the world's first motherboard to feature USB Type-C connectivity. The USB Type-C connector is the future in connectivity and allows for easy connecting of next generation USB and video devices through an easy to use connector. With this connector you can blindly connect any device because it allows for upside down plugging in of cables. No longer struggle to connect your devices at the back of your PC with MSI and USB Type-C.


X99S SLI Krait Edition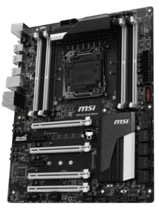 Inspired by and developed in cooperation with the world's elite case modders, the new X99S SLI Krait Edition is surely different than your basic motherboard design. Designed for powerful computing and delivering an arsenal of features, the X99S SLI Krait Edition motherboard is the perfect solution for those looking for a feature rich motherboard with a unique look & feel. The X99S SLI Krait Edition motherboard is now available.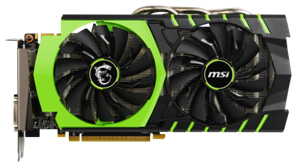 MSI GTX 900 Series Graphics Cards
Since the launch of MSI's GTX 970 GAMING and GTX 980 GAMING based cards its' received only but the highest recognition from media and end-users alike for their excellent value, performance and quality, and intelligent cooling design with the new TWIN FROZR V technology. To celebrate the milestone that MSI has sold 100 million NVIDIA based graphics cards, we will launch a special overclocked GTX 970 GAMING 100 Million Edition(GTX 970 GAMING 100ME) graphics card with TWIN FROZR V cooler in well-known NVIDIA green. Completing the package is a user-friendly Gaming App for easy access to a plethora of features, together with MSI's renowned Afterburner for overclocking and XSplit Gamecaster for online streaming.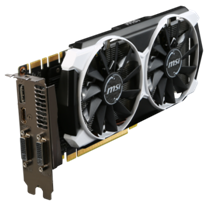 On the booth, MSI are showing a new dual-fan graphics card cooler featuring a black & white scheme. This new distinctive design forms a perfect match with both the Z97S SLI Krait Edition and new X99S SLI Krait Edition motherboards, enabling case modders and enthusiasts to obtain a full MSI black & white setup down the road.




Premiering at CES – PANOCAM
PANOCAM is an advanced 360° viewing angle IP Camera with 1600x1600 resolution, local and time-lapse recording functions, and easy Data Over Voice audio pairing. Supported by Android and iOS, PANOCAM gives you boundless vision and peace of mind – wherever you are.


MSI will also be showcasing the WS60 Workstation, one of the lightest and high performance mobiles workstations; the GS60 4K, world's thinnest and lightest 4K gaming laptop; the AG270 Gaming AIO, world's first true 27-inch gaming AIO; and a variety of components and gaming peripherals at the Aria Resort.


New for 2015 is the launch of gaming.msi.com, an online meeting place for gaming enthusiasts the world over. gaming.msi.com will be replacing dragonarmy.msi.com and game.msi.com, combining the two websites while adding enhanced content and features. MSI Gaming fans can now congregate to one destination for MSI Gaming news, product information, events, and interact with the MSI Gaming community.