Dominate, conquer, destroy
MSI, world leading in motherboard technology, is pleased to announce its unleashing of the Z97 GAMING 9 AC motherboard to the public. The Z97 GAMING 9 AC from MSI is a custom designed motherboard, decorated with luscious new heat-sinks and unique Dragon Armor that highlight an arsenal of new features found on the board. It's masterpiece being Xtreme Audio DAC, a premium dedicated onboard sound card with specially selected high quality audio components, set up and tuned by professionals delivering 120dB Signal-to-Noise-Ratio (SNR) 192kHz / 32-Bit of purest sound quality for studio-grade Hi-Fi solutions and gaming headgear. The MSI Z97 GAMING 9 AC also comes with an Intel® Wi-Fi AC module with Bluetooth 4.0 and Intel® WiDi support.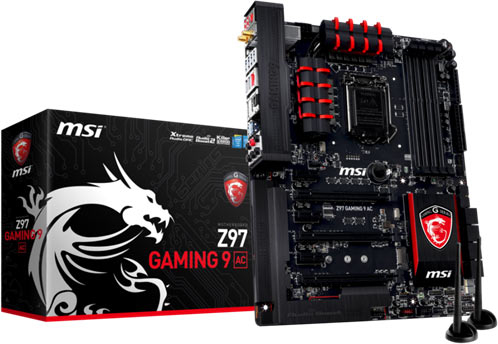 Go to game.msi.com for more information on the MSI Z97 GAMING 9 AC motherboard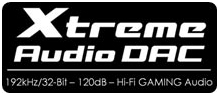 World's best onboard Hi-Fi GAMING audio
Having superior sound quality while gaming is the decisive factor between a kilI or be killed. The MSI Z97 GAMING 9 AC motherboard comes with a premium Hi-Fi sound card, delivering 192kHz / 32-Bit 120dB SNR bit-perfect audio quality, onboard! Premium audio components like a C-Media HD Audio Processor, Wolfson WM8741 DAC and Texas Instruments TPA6120A2 amplifier are selected for the truly amazing sound quality. Enjoy pure sound quality and a breathtaking, never heard before, gaming sound experience that gives you the upper hand on your enemy.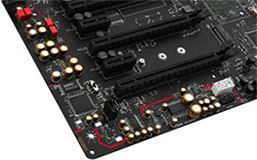 The best components chosen by professionals
Xtreme Audio DAC is not just a selection of the best Hi-Fi components but chosen, set up and tuned by professionals for a clear, warmer, and more balanced sound output, tailored for studio-grade quality.

The heart of Xtreme Audio DAC is powered by a C-Media CM6631A High Definition Audio Processor. Offering ultra-realistic High Definition Audio Playback and Recording at 192kHz / 32-Bit up to 120dB SNR. Extremely popular with audiophiles and regarded as one of the most renowned audio protocols for bit-perfection, the C-media processor is controlled by a ASIO 2.2 driver, supporting variable bit depth, sample rate, multi-channel operation and synchronization. With the support of ASIO 2.2 you will experience breathtaking clean sound quality like never before, approaching 100% bit-perfection of the original audio source.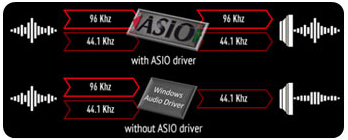 Ultra-low distortion ensures a perfect, realistic display of sound. Supporting the C-Media CM6631A HD Audio Processor is a Wolfson WM8741 DAC which combines an exceptional signal to noise ratio with Wolfson's low out-of-bandnoise, world-class linearity and a unique combination of programmable advanced digit al filters. WM8741 shapes the audio to the ideal listening conditions recreating the optimal natural analogue sound. Crystal clear speech under the most extreme gaming conditions. Your gaming companion won't miss a word, even on a sound overloaded battlefield. For high quality analog input processing you can trust on a studio-grade Cirrus Logic CS5346 ADC.


Premium TI TPA6120A2 dedicated headphone amplifier for headphones up to 600Ω
Experience ultra-realistic and pure sound without any additional amplification from inferior devices. A high-quality TI TPA6120A2 dedicated headphone amplifier, supported by a pair of TI OPA1652 amplifiers, 1 per channel, makes sure you get the best sound quality at an amazing dynamic range with ultra-low distortion, less than 0.001%. The TI TPA6120A2 dedicated headphone amplifier is optimized for professional headphones up to 600Ω.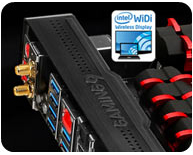 Intel® Wi-Fi AC & Bluetooth 4.0 with Intel® WiDi support
The MSI Z97 GAMING 9 AC motherboard comes with an easily unpluggable Intel® Wi-Fi / Bluetooth module which also supports Intel® WiDi (Wireless Display). This way you can easily connect to other wireless devices in your home. The support of 802.11 AC and Bluetooth 4.0 ensures that you have the fastest available transfer speed with up to 867 Mbps for Wi-Fi and 25 Mbps for BT 4.0. With Intel® WiDi and a WiDi receiver (not included) you can watch movies on your t.v. without the need for any cables. A black design I/O cover with GAMING 9 inprinted doesn't only look cool, but it also protects against Electro Magnetic Interference. Making sure whatever device you connect, you will always receive a pure signal.

Dragon Armor
Much like the design of the I/O Cover, this awesome looking piece of Dragon Armor isn't just for great looks but also works as a protective shield to help keep the audio signal pure, preventing interference from other components. This is extremely important when demanding high quality sound.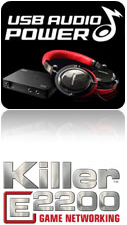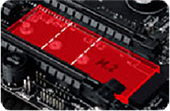 Speed, sound & stability
With the focus on Speed, Sound and Stability, MSI GAMING motherboards provide every essential component of a true gaming system and then some! Xtreme Audio DAC, Audio Boost 2 powered by Creative Sound Blaster Cinema2 and USB Audio Power give your ears the detailed and richness in sound they need. On-board M.2, SATA Express (optional) and Killer™ LAN provide the best networking and storage performance through unprecedented transfer speeds up to 67% fast than SATA3 and extremely low latency while gaming online. GuardPro and Military Class 4 provide all the stability you need through carefully selected and thoroughly tested components and materials. To top this off, every MSI Z97 GAMING motherboard comes with a XSplit Gamecaster premium license to kickstart your on-line streaming of gameplay for both young and aspiring, and seasoned professional gamers. With the MSI Z97 GAMING 9 AC you get all the weapons to truly dominate, conquer and destr0y.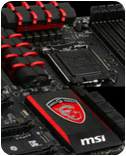 GAMING engineered to perfection
MSI continues to showcase its love for GAMING products by crafting each Z97 GAMING motherboard to perfection. From the inspiring new heat sink based on a Dragon's claw, a cleaner layout around the CPU socket, matte black PCB across the entire line-up and impressive M-Shield I/O panel cover it's an inspiring sight for gamers. Details make the difference.