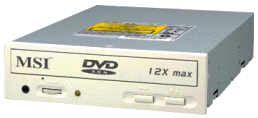 In response of multimedia market trend and demand with the usage of DVD multimedia device, for example of DVD movies, DVD gaming, and DVD based educational training materials; MSI™ is introducing the 12X DVD-ROM - "StarSpeed MS-8212" to fulfill MSI™customer needs.
MSI™'s StarSpeed MS-8212 DVD-ROM is based on front-loading tray mechanism front panel headphone jack, busy indicator, close/eject buttons, volume control and emergency CD rejection hole.
The internal design of CD-ROM has digital & analog audio extraction' mmaster/slave select jumper' 40-pin IDE interface, DC input interface.
StarSpeed MS-8212 DVD-ROM can read 12cm & 8cm CD, data transfer rate is 16200KB per second in 12x when reading DVD format; 6000KB per second in 40x when reading CD format. The average access rate for DVD-ROM is 110ms and for CD-ROM is 100ms. It also has buffer size of 512KB, which has been tested to be very stable in terms of performance wise. The StarSpeed MS-8212 DVD-ROM is also based on E-IDE/ATAPI interface, which can support different disk format includes: DVD single layer/dual layer' DVD-R, CD-ROM,CD-ROM/XA,CD-R(CD-WO),CD-RW,CD-DA(Audio CD),CD-I/FMV(CD-Interactive),Single/Multi-Session Photo CD,CD-Plus(CD-Extra Enhanced CD,I-Trax CD),Karaoke CD/Video CD.
Want to know more about StarSpeedMS-8152, please visit MSI™ web site