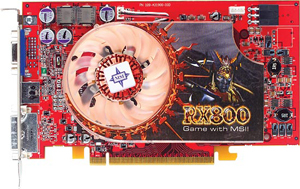 For speifications of RX800XT-VTD256E, click here.
MSI has recently released its RX800 PCI-E card which uses ATI's X800XT chip. It's clocked at a lofty 500MHz has 256MB of GDDR3 memory and features a full 16 pixel pipelines that offer some of the fastest Shader Model 2.0 performance to be found today.
What really helps one add-in board makers card stand out from its competition is the bundle and pricing of product. To that end, MSI has taken some steps to help ensure they have a compelling bundle which does include full versions of Prince of Persia and Splinter Cell.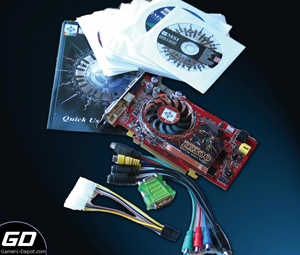 MSI is poised well to offer these cards as they've been around for years, offer great support and warranties. When you buy a product from them you can be rest assured that you're buying from a reputable company that stands behind their products. Additionally, their close-working relationship with ATI ensures the quality of this card.
Video capture fans will appreciate the on-board Rage Theater chip which allows for some of the best capture quality this side of a dedicated capture card. The limited video in/out supports capturing from S-Video or component video for even better quality. MSI does include some basic software to handle capturing chores so users will be able to get up and going right out of the box.
Overall performance is great on this card. It'd make a great solution for any hard-core game with an unlimited budget. MSI does a great job of making the bundle and availability appears to be in good supply.
We've enjoyed this card and have absolutely no reservations in recommending it to anyone looking for a high-end solution. Support for the X800 seems to be picking up with games like Half Life 2 and MOH: Pacific Assault.
Pluses
+Excellent Performance
+Decent bundle
+Overclocks well
Final Rating: 5 Drips.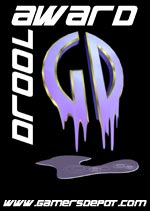 Source from the Gamers-depot.com
(http://www.gamers-depot.com/hardware/video_cards/msi/rx800/001.htm)