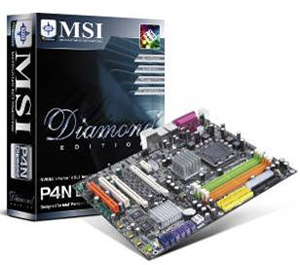 Product Specifications
MSI P4N Diamond : Introduction
nVidia certainly chose the right path by re-introducing SLI in a PCI-E platform with their nForce4 chipset. We say this because it seems as though other chipset manufacturers are going to be jumping on the "multi video cards" bandwagon soon. However, nVidia was the first with it on the AMD platform and they're first with it on the Intel platform as well as we look at the P4N Diamond from SLI. If you remember correctly, MSI was also the first one to send us their AMD based SLI board.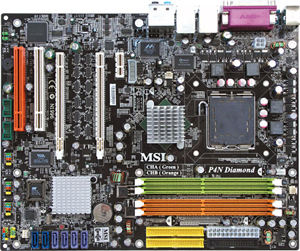 Packaging
The P4N Diamond comes in a shiny black box almost identical to the AMD version. The front side flips open to reveal some of the features supported by the board as well as some of MSI's proprietary features. The back of the board has an actual board shot and lists all the cables and headers included. Inside the package, you find most of the things that are included with MSI boards such as rounded IDE cables and plenty of SATA cables. MSI also includes backplates for USB, Firewire , DLED as well as one SATA port.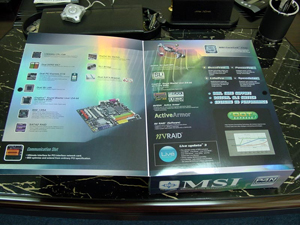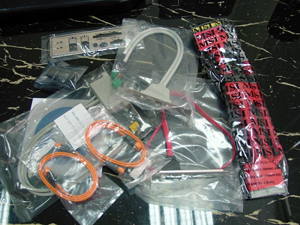 Layout
MSI does a reasonable job with the layout of the P4N Diamond. The memory sockets as well as the floppy and IDE connectors are present next to the CPU- where we like them. The main power connecter is also present here while MSI places the four-pin connector between the back panel and CPU socket and on the top of the board which allows you to reduce cable clutter. The board comes with two PCI-E x 16 slots, one PCI-E x1 slot and two standard PCI slots. This is the first nForce4 board we've received that has no card between the PCI x16 slots that you need to flip to enable/disable SLI and this is a very good thing.
MSI places six SATA connectors in a row which certainly looks cool but will probably create a jungle of cables if you plan on using all the connectors. Right above these connectors MSI places their clearing CMOS button and instead of switching jumper position to clear the CMOS, you simply press that button- certainly very convenient for us but not for the small group of people that wire the clearing CMOS jumper to the front or back of their system so they can clear the CMOS even with the case closed.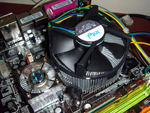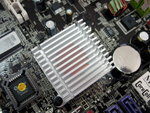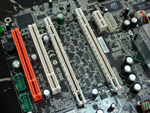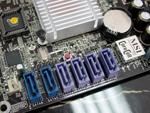 Features

Based on the nForce4 SLI chipset, the MSI P4N Diamond brings with itself all the features that the chipset supports like SLI, Dual channel DDR2, 3.0GB/s SATA ports with RAID as well as nVidia's Active Armor firewall technology. On top of that, MSI adds Creative's 5.1 SB Live! Audio solution as well as Silicon Image's RAID controller that runs off the PCI-Express bus.
BIOS

Plenty of tinkering options will make the P4N Diamond a good board for tweakers. Starting off, you can adjust memory timings and frequency to your memory modules's liking. What we rally liked about this board is that the memory isn't set as a divider of your FSB- instead you can set the memory and FSB independent of each other to any speed that the board allows.
Dynamic overclocking is also supported for the casual overclocker and not only does MSI allow your CPU to be overclocked, but the core for your ATI or nVidia based graphics card can also be dynamically overclocked. People with nVidia cards can also have the video card's memory dynamically overclocked. We think that this is a pretty option for people who like to run their setups at stock speed but need a bit of a kick when playing demanding games.
MSI also allows you to adjust overclocking options manually and they give you a reasonable range to play with. Starting off, you can adjust the CPU multiplier if your CPU is unlocked while FSB speeds range between 400MHz to 1400MHz. As we mentioned earlier, you can adjust the memory speed independently of the FSB and MSI allows you to select anything between 400MHz to 900MHz.
Voltage options are also present for CPU, memory and Northbrdige with MSI allowing upto 1.55V for the CPU, 1.8V to 2.4V for your DDR2 memory modules and upto 1.7V for the Northbridge. We were able to take our 3.46GHz EE CPU from 533MHz to almost 140MHz by reducing the multiplier from 13 to 12.
Stability

While we didn't face any stability problems. Besides, we didn't face any compatibility or stability problems with the memory modules and video cards that we used to test the board.
Conclusion
nVidia's entry into the P4 chipset segment is certainly impressive. The P4N Diamond manages to post scores which are as good as Intel's 925XE in most benchmarks and better in gaming bringing it a bit closer to the Athlon64 dominated category. nVidia also provides better built-in features such as support for ten USB 2.0 ports, four IDE drives along with four SATA drives than can be mixed to create RAID and their Active Armor Firewall technology.
One of the main advantages that nForce4 brings is SLI technology which will be looked upon in an upcoming article where we'll compare AMD to Intel in high-end SLI gaming. We do like the fact that you dont have to use the SLI card to switch between SLI and non-SLI mode and kudos to MSI for that.
We think that MSI has done a good job with the P4N Diamond. It's full of features. It's also pretty stable and delivers good performance and overclocking options.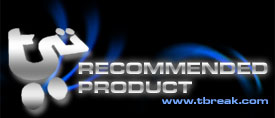 Source from the Tbreak.com
(http://www.tbreak.com/reviews/article.php?cat=mobos&id=366)