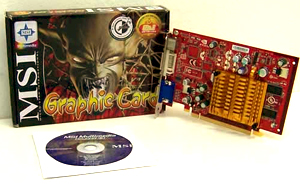 After the testing of this card, some of the most enthusiasts game users might be a little down, but we believe it is a misunderstanding because this card is not focus on these power users. This is an ecnomic and low-end card of NVIDIA Series 6, its price is about 80£ which is quite fair for those who don't wish to pursue for the excellent display resolution for gaming.

For those who don't want to spend too much money on a graphics card and who only want to play games sporadically, the MSI NX6200TC TD64 is definitely the first choice to experience.
The games that NX6200TC TD64 used and passed for testing are mostly the newest ones which usually demands more displaying performance. So, users can totally enjoy and be satisfied with the game playing by using NX6200TC TD64.

In the rest of items of the benchmark testing, the card demonstrated outstandingly, without any flaws or freeze. Thanks to its passive dissipation device, NX6200TC TD64 is completely stable and silent. Besides, its overclocking capacity will also surprise us all.
For that reason, we granted to this Graphics card with the award of "Price/Features" in Noticias3D.
Pro:
Reasonable price
Absolute silence
Very good overclocking capacity
Perfect stability
Source from the Noticias3d.com
(http://www20.tomshardware.com/business/
20050314/cebit_2005-08.html)