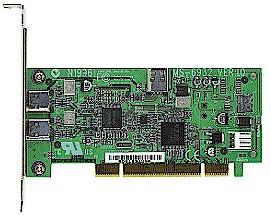 MSI™ has announced the new release of IEEE-1394 card, the MSI™ 1394 card, to meet the demand of those who look for high speed interface for real time data transfer between computer components and/or consumer products (PC, digital video and photo cameras, printers, consoles).
Firewire is the future of computer I/O technology. The Firewire advantage can be summed up in three words: speed, speed, and more speed. The MSI 1394 card brings the following features:
The MSI 1394 card features 3 firewire ports (2 external, 1 internal)
These ports are great for use with multimedia peripherals such as video camcorders and other high-speed input devices like the latest hard disk devices and printers.
400 MBits data transfer rate
400 MBits data transfer rate makes IEEE-1394 very suitable for multimedia components and it has more than 30 times the bandwidth of USB.
Hot Plug and Plug and Play capability
The MSI 1394 card is a PCI based Firewire adapter. The card is hot-plug capable, giving another advantage over common bus systems like SCSI. Users may attach and remove Firewire components without turning off the computer.
Data transferring in real time
The card has the ability to transfer very high quality video streams in real time without any quality loss to a digital video computer. Firewire is a peer-to-peer technology. This enables a whole new world of shared peripherals. Two or more computers can share the same Firewire video camera or scanner when they are "daisy chained" on the Firewire bus.
Supports up to 63 devices
Firewire is a cross-platform industry standard and it can support up to 63 devices and up to 1023 buses can be interconnected.

Free Ulead VideoStudio video-editing software

With Ulead VideoStudio's superior intuitive interface, you don't need to know how to edit videos before starting. Let Ulead VideoStudio guide you through its unique step workflow process so you can get up and share videos with friends and family around the world in no time at all.
If you would like to learn more about our new MSI™ 1394 card, please go to our website at ()