Taipei, Taiwan - The successful market launch of NX8800 series a few months ago continues up to this day. Winning several Editors' Choice Awards and Users' Choice Awards, MSI now proudly promotes its ultimate next-generation graphics card this Spring 2007 – the NX8800Ultra.
Similar to its predecessor, the MSI NX8800Ultra supports the DirectX® 10 meeting Microsoft®'s requirement for Windows® Vista®. Powered by NVIDIA® GeForce™ 8800Ultra GPU which simultaneously processes multi-threaded shader instructions to reproduce a rich 3D graphics details in real-time. The latest structure of this graphics card provides amazing levels of gaming and cinematic realism. The NX8800Ultra features four MSI's exclusive software tools which enhance every users' multimedia experience. MSI's latest Dual Core Center helps monitor, overclock and optimize your PC. The Dual Core Center is designed to monitor the system's current state and adjust the system performance automatically. With MSI's exclusive Vivid Video technology, graphics quality of the NX8800Ultra is optimized, giving users a better image quality when viewing digital photos, documents or playing games. The MSI StarOSD is the best gaming utility and fastest way to overclock the graphics card while playing PC game. Lastly, the MSI Live Update Online ensures that users have the latest BIOS and update drivers to increase total system performance.
NVIDIA® unified architecture with GigaThreadTM Technology
MSI NX8800Ultra designed with fully unified shader core that dynamically allocates processing power to geometry, vertex, physics, or pixel shading operations, delivering up to 2x the gaming performance of prior generation GPUs. GigaThreadTM brings new Massively multi-threaded architecture that supports thousands of independent, simultaneous threads, providing extreme processing efficiency in advanced, next generation shader programs
Full DirectX® 10 & Shader Model 4.0 Support
MSI NX8800Ultra takes the lead to have world's first DirectX 10 GPU with full Shader Model 4.0 support delivers unparalleled levels of graphics realism and film-quality effects.
NVIDIA® Quantum EffectsTM Physic Processing Technology
Advanced shader processors architected for physics computation of MSI NX8800Ultra enable a new level of physics effects to be simulated and rendered on the GPU—all while freeing the CPU to run the game engine and AI.
MSI Dual CoreCell Technology
MSI has also developed a new generation Dual Corecell software design with the NX8800Ultra graphics card to deliver performance precision, silence precision, and image precision. It allows users to monitor/tweak CPU/GPU, provides a variety of scenario for the most effective experience.
MSI "Vivid" Video Technology
You can enable "Vivid" when you installed MSI NVIDIA series from now on. Vivid brings the best visual experience when browsing, surfing internet and playing games.
MSI StarOSD, the best gaming utility
The MSI StarOSD is a very helpful utility for the avid PC gamers. Users can easily access the StarOSD to adjust the contrast, brightness, overclocking and temperature according to each user's individual preference.
Simply press the hotkey [Ctrl+D] to launch the StarOSD window menu and [Ctrl+F1~F12] for the different menu functions. This is good news to all game enthusiasts as MSI StarOSD is currently the first utility to allow overclocking even when playing a game.
MSI Advanced Live Update Online
A totally easy and convenient way to update the BIOS and driver without hassle! The MSI Live Update online is designed to automatically download and update the BIOS and driver when there's a new version online. It helps reduce the risk of getting the wrong file and minimize the trouble of searching the files from the web site.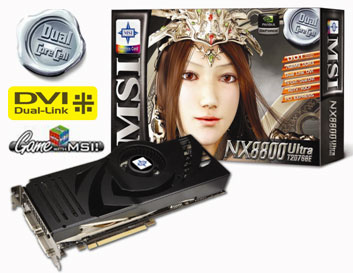 NX8800Ultra (NX8800Ultra-T2D768E-HD)
Powered by NVIDIA® GeForce® 8800Ultra unified architecture GPU
Core Frequency:612MHz

128 stream processors

Memory Frequency:2160MHz

768MB DDR3 graphic memory

HDTV-Out; Two Dual-Link DVI

HDCP Capable

PCI Express®16X

SLI Ready

Full DirectX® 10, Shader Model 4.0 and OpenGL® 2.0 support