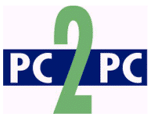 MSI™ keeps the concept of "innovation" and based on consumer's aspect, proudly presents newest feature - USB[ PC2PC ] Connection. Users just need to own MSI™ motherboard that supports this feature by using one USB cable; it could easy conduct data transfer and back up, Internet access, peripheral sharing, Net Meeting, Ethernet Emulation, Home Networking and Mobile Computing.
With Windows® 98/2000/Me and OS Mac and many different operating system environment that are currently existing, MSI™ USB [ PC2PC ] Connection feature could let user easily conduct system installation by just using one USB Cable on MSI motherboard. For corporate users, using USB [ PC2PC ] Connection feature on MSI™ motherboard could provide easy data transfers from PC to Notebook and online access for convenience purpose.
It could also share peripheral resources, Net Meeting and Mobile Computing. For regular Internet users, using USB [ PC2PC ] provides less time consuming and low cost. Therefore, USB [ PC2PC ] Connection feature is one of the best convenience and valuable innovation product for new E-Millennium! The benefits of using USB [ PC2PC ] Networking Connection are as followed:
Cost-Effective:
compare LAN and HomePNA's high costs and networking setting complication, with USB [ PC2PC ] feature, only one USB cable is needed for easy networking setting which is very cost-effective to all users.
Easy Networking:
by using USB [ PC2PC ] Networking Connection feature on MSI™ motherboard, it could easy conduct simple system installation process, easy data transfer, Internet access, peripheral sharing and Netting meeting. Want to experience this amazing MSI? USB [ PC2PC ] Networking Connection feature? Simple! Just own a MSI? motherboard (815EP Pro-R, Pro266 Plus... etc.), you will fill the difference right away. For more details on USB [ PC2PC ], please visit MSI™ Web Site ()