News
MSI Announces the GeForce GTX 770 Gaming - A Graphics Card Made for the Ultimate Gaming Experience
Latest Update: Thu, 30 May 2013
[Taipei, Taiwan] Leading graphics card and motherboard maker MSI is announcing the GeForce GTX 770 Gaming (P/N: N770 TF 2GD5/OC) graphics card featuring the latest NVIDIA GeForce GTX 770 graphics core, 2GB GDDR5 high-speed memory, and PCI Express Gen3. The exclusive MSI Gaming App supports quick switching between performance, power saving, and default presets to balance performance with power consumption. The exclusive "Airflow Control technology" features twin extra-large 10cm fans with Propeller Blade technology and Twin Frozr IV cooling for incredible thermal control. The core temperature and fan noise are perfectly balanced at 68°C and 35dB respectively while under full gaming load to present a most optimal gaming environment. Gen4 military grade components protect the graphics card and prolong product lifespan. The bundled Predator software is a video capture tool for gamers to easily share their gaming experience with the world. MSI GTX 770 Gaming is a perfect combination of software and hardware made specifically for gamers to conquer the gaming world!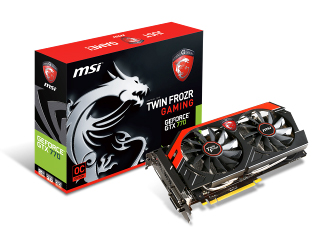 MSI GeForce GTX 770 Gaming

Graphics Card Tweaking Made Easier with the Exclusive Gaming App
The Gaming App exclusively from MSI is especially designed with the mass gaming market in mind. Gamers will be able to switch to the high performance gaming mode with just one press of a button without the need for dedicated hardware, know-how, or having to jump through hoops. In this mode, the extra cooling performance ensures a smooth performance for all games. In the power save mode, the graphics card operates in a low power state to silence the fans for a comfortable Internet and working environment. The default mode resets the graphics card to factory default settings. Simply switch between the three modes to match the performance requirements with just a single click!



Twin Frozr Cooling Further Reduces Temperature to 68 °C and Fan Noise to 35dB
The MSI GeForce GTX 770 Gaming features the Twin Frozr IV enhanced cooling module with Propeller Blade technology, superpipe, and nickel-plated copper base. This cooling design features larger 10cm fans for lower noise, higher air volume, and industry leading cooling performance. In addition, the MSI exclusive Airflow Control technology significantly improves cooling performance for a lowly 68°C core temperature and 35dB fan noise even while under a full gaming load. MSI products are continuously evolving to the benefit of all gamers!



Gen4 Military Grade Components for Reliability and Stability
Military grade products are the staple of MSI design. The GeForce GTX 770 Gaming is the first product to feature the latest Gen4 components certified by a third-party laboratory to conform to the MIL-STD-810G standard by passing seven rigorous tests in simulated harsh environments for better reliability and quality. Gamers can trust the MSI GeForce GTX 770 Gaming to provide absolute stability, better cooling, and more reliable power requirements with solid-state capacitors (rated for 10 years), next gen SFC, and Hi-C CAP with tantalum cores.




Share and Experience Gaming with the Predator
Recording your best moves to share with your friends is all the rage right now! Therefore, Predator is a powerful video capture tool built into the exclusive MSI Afterburner. Gamers can setup hotkey recording, adjust video quality, and dual-track recording to add commentary for better enjoyment for the audiences.

*For more information about the GTX 770 Gaming, please visit: http://www.msi.com/product/vga/N770-TF-2GD5-OC.html