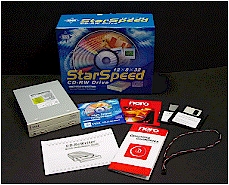 MSI™, a world leading manufacturer of motherboards, graphic cards and other multimedia products, today introduces its new 12x8x32 CD-RW drive-StarSpeed MS-8312. The new 12x8x32 CD-RW drive represents MSI™'s efforts to meet business and consumer demands for faster performance. The MS-8312 has a tray mechanism. On the front panel you can find: headphones jack, mechanical volume control, open button, one indicator showing that drive is working and emergency ejection hole. The rear panel also has very good features: connector for IDE bus, power supply, analog and digital SPDIF cable, and a panel for switching jumpers. Following are some of the key features:

The StarSpeed MS-8312 CD-RW features Seamless Link™ technology, which ensures fault-tolerant CD burning. Seamless Link™ prevents errors from occurring when data flow to the drive is interrupted during the recording process due to slow source-drive performance, PC configuration problems, or when running other applications.
The StarSpeed MS-8312 features 12X CD-recording, 8X CD-rewriting, and 32X max CD-playback, making it among the fastest CD-RW drives available on the market today. Average random access time is a very fast 85ms, which provides for high-speed database searches. The new MS-8312 recorders are designed to take full advantage of the new, high performance 12X CD-R/CD-RW media to optimize record speed and reliability. Computer users can download the latest firmware from MSI™ website and upgrade the firmware easily.

The internal MS-8312 drive has an E-IDE (ATAPI-4) Interface and it supports a wide variety of CD format and writing modes. The drive also offers the lowest cost per megabyte and highest level of compatibility over any alternative storage solution.

Playing an audio CD has never been this easy. Once an audio CD is inserted into the drive, simply press the Play button to begin audio play. No software needed.

In case of power failure, computer users can use the pin that comes with the drive to eject the CD manually.

The StarSpeed 12/8/32 CD-RW drive includes the well-known Nero CD Recording software, which supports just about every feature you could want in a CD-burning suite. The drive also comes with one blank CD-RW media for an enhanced "out-of-the-box" customer experience.
This high-speed drive provides both professionals and power-users with the ideal solution for such advanced applications as recording audio CDs, archiving small and large data files, or creating multimedia productions. If you would like to learn more about our new StarSpeed MS-8312 CD-RW, please go to our website at www.msi.com.tw.