The CD-RW drive in the limelight today is none other than the CR52-M from MSI™, which has been creating quite a stir in our community forums. The name MSI™ have always been synonymous with stellar-quality motherboards and eye-popping bundles for their graphics cards (just look at their NBOX N5900 ULTRA!). But if you do not know by now, MSI™ have also been around in the optical storage business for quite some time. Although their drives aren't in the same league, MSI™ have always been considered a young entrant by many. However, that perception looks to change soon as unlike before (past MSI drives have mostly been OEM-ed by AccessTech), the new CR52-M that we're reviewing here was built from the ground up by MSI™ themselves. And that says a lot about the company's seriousness in going into the CD-RW market.
First off, let's take a look at the built of the CR52-M. At a glance, the drive is similar to the TDK CyClone Combo that we reviewed not too long ago, where it sports a short body shape (MSI™ calls it MiniForm) for convenient installations. The faceplate on our evaluation unit comes in pearl white, but a black version is available too, which will match those popular black casings nicely. Speaking of faceplate, the CR52-M comes with two buttons instead of the standard single-button designed faceplate that are seen in most drives these days. It's a pretty useful feature for some, because that extra button functions as a Play/Skip feature for audio playback. Other notable functions on the faceplate include some of the standard fare; a Headphone jack, a Volume Control knob, and the Eject button that also doubles as a Stop button (to complement the Play/Skip button).
Internally, the CR52-M uses its own Buffer-underrun protection known as SuperLink, as well as an ABS (Anti-Bumping System) technology that absorbs shock and reduces vibration. This helps in making disc reading and writing more accurate, and together with the SoftBurn mechanism, keeps the noise of the drive to a minimum level as well. Perhaps one of the more prominent feature of the drive have got to be its HyperGuard, which is a safety protection structure to avoid a disc break-out (spinning at 52x, a poor quality media breaking up is very real). On that part, we have to commend on MSI™ for implementing this safety feature.

Interestingly, MSI™ have adopted a feature that's similar to Plextor's SpeedRead and limits the CR52-M's speed to 40x by default. To enable 52x-read speed, users will need to hold on to the Eject Button (after inserting the CD) until the Play/Skip button flashes momentarily. The drawback of this feature is that, like SpeedRead somewhat, it isn't compatible with CD Audio (as seen in our test results above) and CD-RW discs. Therefore, such media will still be limited to just the 40x-read speed limit. But 40x is definitely more than enough to playback audio from your CDs anyway, and most CD-RW drives have never been able to read CD-RW media up to its peak. Back to the results, we have to note that the Warcraft III Installation disc isn't a full 74mins CD, so the timed run of 48.58x isn't bad at all. On the CD-R media tests, the drive also showed some impressive score where it went quite close to the 52x mark.
Digital Audio Extraction Results - Nero CD DAE & ExactAudio
As with all optical storage drives out there, the CR52-M also allow owners to rip tracks off their favorite albums and store them inside their hard drives. And in this part of the tests, we'll take a look at how the drive performs in Nero CD DAE and Exact Audio Copy (EAC) by ripping tracks from our "NOW That's What I Call Music" album.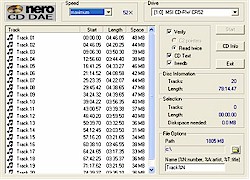 CD DAE confirmed the drive is able to extract digital audio at 52x. But wait...maybe not!