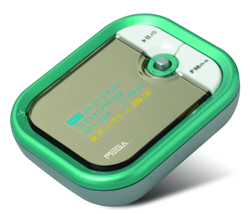 MSI, the emerging innovator in digital entertainment, today unveils its new MEGA Player Series multi-function portable audio device. As the latest addition to MSI's successful MEGA Stick series, the new MEGA Player Series was designed to bring users the best digital entertainment experience. It is a small player that packs a BIG punch! MEGA Player series provides up to 14 hours* of battery life. You can upgrade your MEGA Player Series with the newly released firmware and enjoy added up-to-date functions as needed-- firmware upgrade files are available on MSI's website and can be downloaded through the included USB cable. MEGA Player 513 and MEGA Player 515 now are available in the market.
The MEGA Player 515 is great for everyone, from youngsters who seek audio entertainment to businessmen who need the voice recording function and data storage. Below are some of great features you can find in this "mini wonder":
MEGA Player 515 Major Features:

Auto Power-off function

Firmware Upgradeable

128/256/512MB built-in flash memory

Supports MP3 and WMA music files

Integrated digital FM tuner with the support of 10 FM station memory

Record from FM tuner directly to player

Built-in voice recorder

Language learning function
MP3 Player:
The most simple to use, High-Fidelity MP3 and WMA Player. The MEGA Player 515 provides customized sound with 5 EQ Modes (Normal, Rock, Jazz, Classic, POP) and gives the user up to 14-hour* Non-Stop Playing time on a rechargeable battery.
Use MEGA Player 515 as a portable USB Mass Storage:
With the flash memory, it can be used as a portable USB Mass Storage and you can easily share your music, photos and documents anywhere.

FM Radio and FM Recorder:

Record directly from the built-in FM radio, so you will not miss any of your favorite programs.

Digital Recording Function:

The built-in microphone is perfect for capturing ideas, dictating memos and saving reminders anytime, anywhere.

OLED Module:

Despite its small size, it shows you all the information you need such as EQ setting, battery status, track duration and more. The blue DLED Backlight is useful in dark environment. The display is capable of recognizing text displayed in over 10 international languages including English, Chinese, Spanish and French.

Language Learning Function (Select the replay section):

You may choose to replay the content of the recorded course, and select a section for continuously replay and learning -- it functions like a mini language learning device.
If you would like to learn more about the new MEGA Player Series, please go to www.msi.com.tw for the details.