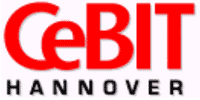 Exhibit date & time: March 22~28, 2001
Exhibit Location: Hannover, Germany,
Exhibit hall 13 Booth # : F31
CeBit, Hannover of Germany will be conducting annual computer show on March 22 ~ 28 of 2001. MSI™ will be exhibiting in Hall 13, booth number F31. In this 2001 CeBit computer show, MSI™ will be displaying many of our own innovated unique products. For the MSI™ motherboard portion, we have motherboard support based on Intel 850, 815EP chipset, AMD and VIA of major chipset makers. On the VGA product portion, we have VGA card based on nVIDIAR GeForce 2 Pro chipset. Other product includes: Server, NetPC, WBT, STB, CD-ROM, DVD-ROM and PDA.
Based from the above exhibit products, it clearly envisions and outlines the MSI™'s future development and direction. Other then current existing product of motherboard, VGA and Barebone System, MSI™ has successfully expanded facilities, services and diversified product capability to Server, NetPC, STB, WBT, PDA in year 2000 and CD-ROM, DVD-ROM and other multimedia and computer peripheral products in year 2001.
In CeBit computer show, MSI™ will be exhibiting many of our unique innovation features: USB PC2PC. With WindowsR 98/2000/Me and Mac OS and many different operating system environment that are currently existing, MSI™ USB [ PC2PC ] Connection feature could let user easily conduct system installation by just using one USB Cable on MSI™ motherboard.
For corporate users, using USB [ PC2PC ] Connection feature on MSI™ motherboard could provide easy data transfers from PC to Notebook and online access for convenience purpose. It could also share peripheral resources, Net Meeting and Mobile Computing. For regular Internet users, using USB [ PC2PC ] provides less time consuming and low cost. Therefore, USB[ PC2PC ]Connection feature is one of the best convenience and valuable innovation product for new E-Millennium! The benefits of using USB[ PC2PC ]Networking Connection are as followed: Other MSI™ unique features are: SCSI, IDE RAID, MSI™3D! Turbo™, USB2.0, CNR ( Communication Networking Riser ), Smart Card Reader, IPMI, IEEE 1394, and support SDARM and DDR SDRAM which will best maximize the efficiency of MSI motherboard
As the new era of Internet in nowadays, MSI™ has successfully paced into PDA world which drive IA interface into human reality, makes information more accessible and portable.
With the 15 years of experiences of high-end motherboard and VGA in both R&D and manufacturing field, MSI has earned an ISO-9002 quality assurance certification, ISO-9001 R&D quality assurance certification and ISO-14001 environmental protection certification internationally. As one of the top motherboard manufacturers in Taiwan, Micro Star International Company leads a strong R&D team, and complete sales & marketing support and services in all round the world: Taiwan, Germany, France, Netherlands, Australia and Japan. In addition, MSI™'s web site provides multinational online support to best serve customers in real time with full satisfaction and quality.