MSI, the leading gaming motherboard brand, is proud to announce the latest silver edition X99 and Z170 Enthusiast GAMING motherboards, the X99A XPOWER GAMING TITANIUM and Z170A MPOWER GAMING TITANIUM. These motherboards are designed to deliver a great gaming experience as well as top level overclocking.
These unique silver themed motherboards are built based on the critically acclaimed and award-winning TITANIUM concept, introduced first in the motherboard industry by MSI in 2015. The new TITANIUM models feature an all new design for its solid plated heatsinks and covers in full silver color and is inspired by the latest military and spacecraft technologies.
X99A XPOWER GAMING TITANIUM
Besides this totally new design, the X99A XPOWER GAMING TITANIUM motherboard also comes packed with several new and unique MSI features such as Mystic Light extension RGB cable and pin header which allows gamers to decorate their gaming rig with additional RGB LED lights while taking control over the colors and LED effects through an easy to use application in the OS or even with a smartphone. Patented Turbo Socket is available with 2036 CPU pins to unlock better CPU and memory overclocking. For a reliable and fast wireless LAN or internet connection, Intel WIFI is included onboard the X99A XPOWER GAMING TITANIUM.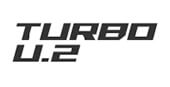 Onboard Turbo U.2 is present to support the latest and greatest SSDs available in the market supporting NVMe with transfer speeds up to 2400 MB/s using a single drive. While Turbo M.2 is now protected by unique M.2 Steel Armor to offer better EMI-shielding and complementing the silver motherboard design, it now also supports SSD types up to 22110 providing PCI-E Gen3 x4 32Gb/s bandwidth with NVMe support as well.
Z170A MPOWER GAMING TITANIUM
The Z170A MPOWER GAMING TITANIUM also features Turbo U.2 onboard, but instead of 1 Turbo M.2 slot, features 2x Turbo M.2 slots with Steel Armor, supporting NVMe SSDs. Using the unique and easy to use M.2 Genie option in Click BIOS 5 to enable RAID 0, this allows the user to reach even more insane SSD speeds. Besides featuring the latest technologies, the Z170A MPOWER GAMING TITANIUM also features a Steel Armor titanium backplate for better board strength while adding to the titanium look & feel.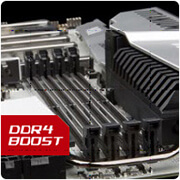 DDR4 BOOST
DDR4 Boost is accompanied by DDR4 Steel Armor to ensure the best memory performance up to DDR4-3466 on X99 and DDR4-3866 on Z170. TITANIUM models are also support Game Boost with 8 gears up to 5GHz of one-second-overlocking! Want to push the limits and break world records? The new TITANIUM motherboards include great features to unlock more potential for extreme overclockers, such as OC Engine and new OC Optimizer for higher overclocking results and more convenience. Last but not least, the X99A XPOWER GAMING TITANIUM motherboard has been designed for optimal performance on next-generation Intel 'Broadwell-E(P)' processors.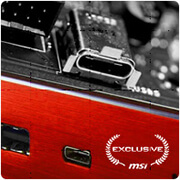 ENJOY THE CONVENIENCE OF FRONT USB 3.1 TYPE-C
Direct front USB Type-C is compatible with next generation PC chassis, perfect for the latest smartphones and great for next generation SSDs and other mobile storage devices. These devices require only the USB Type-C cable for both power and data transfer. MSI is the only motherboard brand to offer this future proof onboard solution, offering a more convenient use of these next generation consumer products.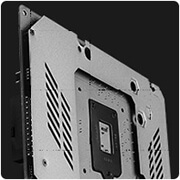 STEEL ARMOR TITANIUM BACKPLATE
FOR ENTHUSIAST BUILDS
One of the most eye-catching features of the Z170A MPOWER GAMING TITANIUM is the TITANIUM BACKPLATE. Besides looking indestructible, the TITANIUM armored backplate strengthens the board so you can use the biggest and heaviest graphics cards and CPU coolers available with a total load of up to 10 kg. At the same time, the stainless alloy plate protects the back of the motherboard against possible harm as well.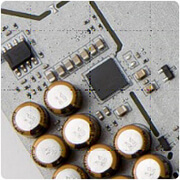 GAME CHANGING SOUND EXPERIENCE WITH AUDIO BOOST 3 FEATURING NAHIMIC
Enjoy the best and purest sound through Audio Boost 3. Audio Boost 3 comes with a selection of best audio components to deliver a studio-grade sound experience, onboard! This high-end dedicated onboard sound card delivers game changing sound quality. Nahimic places your user experience right at the heart of their software, offering you highly sought-after gaming benefits: Virtual Sound, Voice Leveler, Bass Boost, Noise Gate & Reduction and HD Audio Recorder. Audio Boost 3 with Nahimic makes sure you dominate the battlefield through crystal clear sound and pin-point precision. Sound tracker let you dominate enemies in every game and Audio Launchpad make you interact easily with your audience when streaming awesome gameplay.
TAKE ADVANTAGE FROM NEXT-GEN STORAGE SOLUTIONS
Enjoy a blazing fast system boot up and insanely fast loading of applications and games with MSI GAMING motherboards. MSI offers a whole new generation of high speed storage support through onboard Turbo M.2 and Turbo U.2. By offering this wide variety of storage solutions the TITANIUM motherboard supports the latest and greatest high performance SSDs such as the new Intel 750 series with support for NVMe.
USB 3.1 Gen2 is twice as fast as USB 3.0 and the TITANIUM motherboard offers both a USB 3.1 Gen 2 Type-A and Type-C interface for the most convenient and fast mobile storage solutions. Moreover, the TITANIUM motherboards also support the all new USB Speed Up feature, which provides an extra 30% of USB performance, saving a lot of time when transferring data.
So whether looking for game changing performance or simply a unique and super solid motherboard with a bulletproof design, the new X99A XPOWER GAMING TITANIUM and Z170A MPOWER GAMING TITANIUM are ready to deliver.
Titanium I/O cover
BIOS Flashback+
USB 3.1 Gen2 Type A+C
Intel Wi-Fi AC
Audio Boost 3 / Dragon Armor
Mystic Light Extension
Ti Chokes & Turbo Socket
DDR4 Boost with Steel Armor
Debug LED
GAME Boost
EZ Debug LED 2
12. Discharge Button
13. Direct USB Type-C
Front USB 3.1 Gen2
Turbo U.2
PCI-E Steel Armor
Turbo M.2 Steel Armor
Dual BIOS
OC Optimizer
SATA Express Learn more about the MSI TITANIUM motherboards.