News
MSI Master Overclocking Arena 2014 Grand Finals Crowns Champion
Vivi from South Africa Takes the
Latest Update: Sat, 18 Oct 2014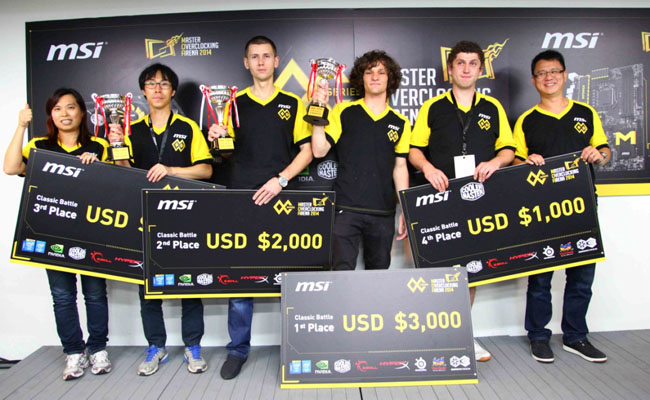 [Taipei, Taiwan] Today, MSI, world renowned motherboard and graphics card manufacturer, presents the 7th edition of Master Overclocking Arena (MOA) Grand Finals, with 18 contestants representing 14 different countries. After the intense benching of Super Pi 32M, Cinebench R15 and 3DMark Fire Strike in the Classic Battle, Vivi from South Africa won the final honors with his amazing performance and became the MOA 2014 Classic Battle champion. Vivi took home $3,000 USD and professional equipments worth over $2,000 USD as the prizes.

Top 4 Extreme MOA Classic Battle

Winners Being a dynamic player in the overclocking community, MOA 2014 Classic Battle Champion Vivi has won various awards throughout the years. The second-place winner was T0lsty from Ukraine, who took home a $2,000 cash prize. The third-place was taken by oc_windforce of Korea, along with $1,500 prize money. The fourth-place winner, Moose83 from Germany, won $1,000 in prize money. These winners also took home the professional OC gears worth over $2,000.

Sophisticated Equipment for Optimal Capacity
To help the overclockers achieve the best possible results, each contestant was provided with the extreme Z97 MPOWER motherboard and a GTX 780 Ti LIGHTNING MOA Edition graphics card. Also, MSI collaborated with many sponsors to provide contestants with the favorable overclocking gears which the industry has to offer, including Intel® Core™ i7-4790K Processor, Cooler Master V1200 Platinum Power Supply, G.SKILL TridentX Memory Kit, HyperX 3K SSD, Steel Series Apex RAW & Kinzu v2 keyboard & mouse, and ViewSonic VX2370SMH-LED Monitor. With all these excellent weapons available in the MOA 2014 Worldwide Grand Final Classic Battle, it's no surprise that we have these great results.

MOA has been organized for 7 years in a row as an extreme overclocking competition. "This year, we prepared GTX 780 Ti LIGHTNING MOA Edition, which is the most powerful overclocking weapon. I believe we will create the world's best OC record with it again!" Vice President of MSI Multimedia Sales Division, Jeremy Liao said. In addition, according to Ted Hung, Vice President of MSI Motherboard Sales & Marketing Division, "MSI insists on providing products with the best quality and stability for our end-users. During MOA, we would like to hear the crazy ideas and honest feedback from these professional overclockers about how we can improve our products to make the performance and user friendliness even better."

About MOA

The MSI Master Overclocking Arena (MOA) is hallowed battleground for global overclocking masters. Every year, MSI invites worldwide overclocking gurus through on-line or on-site qualifications for a high-tech showdown. Equipped with today's most powerful computers, each invited master challenges the limit of their equipment with their excellent overclocking technique to win the honor of being crowned the worldwide overclocking master. These overclocking masters break world records under close watch of global media and fellow overclocking enthusiasts.

MSI has achieved notable milestones in the field of extreme overclocking. Apart from the players-focused annual MOA (Master Overclocking Arena) contest, many other overclocking events are also hosted on-line or on-site to break worldwide overclocking records. The globally watched MOA competition has become the flagship of these overclocking competition series.

For more information about MOA, please refer to the links:

MOA official website: http://www.msi-moa.com/

Live streaming: http://www.msi-moa.com/live.html

MSI Facebook: https://www.facebook.com/MSIHQFANCLUB