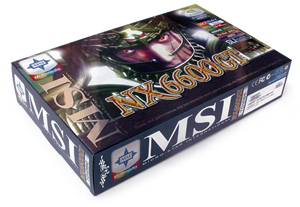 Product Specifications
Introduction:
Today we're bringing you a review of MSI's GeForce 6600GT PCIe part, the NX6600GT-TD128E. The GeForce 6600GT is our GPU of choice for the mainstream markets, as the cards based on the GPU have dominated in most of our performance tests over the last few weeks.
MSI's GeForce 6600GT offering comes in two flavors, the NX6600GT-TD128E, and the NX6600GT-VTD128. The only differences between the two are in price, and also in the fact that the VTD128 features VIVO capability while the TD128E doesn't. A major selling point of the 6600GT is of course SLI capability.
Package Contents: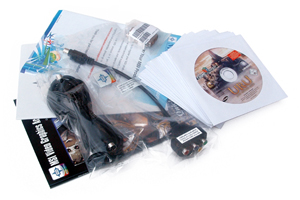 User Manual

Drivers Disk

WinDVD Creator

XIII

Prince of Persia

URU

Restore It!/Virtual Drive

14 in 1 Game Demo Pack

S-Video Cable

S-Video to Component Adapter

DVI to VGA converter
After looking at other GeForce 6600GT offerings, I can say with no hesitation that the MSI GeForce 6600GT has the best bundle out all. Included are three quality, full version games and an array of MSI made software and third party software suites that will give you the most value from the card. Also included are the cables that will help you output to a television, S-Video for standard TV's and component for HDTV's.
Conclusion
Through our testing today, we can conclude that the MSI NX6600GT-TD128E is a top notch graphics card; in fact, it is the best GeForce 6600GT PCIe card we've tested in our labs. The card's bundle is one of the best in the entire industry, including three full version games people will actually play, the necessary output cables, and a handful of additional MSI branded and third-party software titles that people will actually use. This bundle beats the XFX and Albatron 6600GT PCIe offerings combined.
Performance wise, the MSI NX6600GT-TD128E is as expected. MSI's heatsink fan surpasses reference cooling and gave us a 12MHz higher GPU overclock than Albatron's GeForce 6600GT card, translating in an increase of 2-3 FPS in our Unreal Tournament 2004 tests. We were even able to push our card significantly higher for a short period of time, but our tested overclocked speeds were fully tested for stability in our 30 hour stress test.
Pricing is of the NX6600GT-TD128E is surprisingly cheap. Actually the NX6600GT-TD128E is one of the cheapest 6600GT PCIe cards on the market, a surprise because of the huge bundle and excellent overclockability of the card.
So after factoring all of the above, it is easy to see why we strongly feel the MSI NX6600GT-TD128E is the best GeForce 6600GT PCIe card on the market. A great bundle, excellent overclockability, and cheap price make the NX6600GT-TD128E a card to be taken seriously by enthusiasts shopping for their next mainstream graphics card.
Overall Rating: 90 VR-Marks
MSI's GeForce NX6600GT-TD128E has been awarded the VR-Zone Hardware Editor's Choice Gold Award!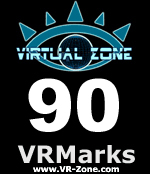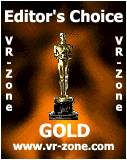 Source from the VR-Zone.com.sg
(http://www.vr-zone.com.sg/?i=1684&s=1)