Top grade Hardware - http://active-hardware.com -- U.S.A.
Five Star award --- www.Hardwarezone.com --- Singapore
Editor Choice award --WCM Magazine-Austria
Editor Choice award -- PC World Magazine--- Russia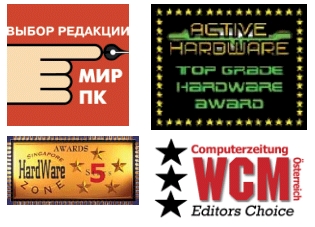 Based on Intel® 815 EP chipset, MSI™815EP Pro-R once again proved that good products always get recognition from product reviewers. MSI™ products consistently win honors in reviews and recommendations in the computer media. The MSI™ 815EP Pro-R motherboard has again received high recognition from several professional product review web-sites and computer magazines around the world.

In January 2001, our 815EP Pro-R was given "Five Star" award from www.Hardwarezone.com in Singapore. The editors remarked: The main feature which attracts me to this board is its stability in extreme conditions Thanks to its many functions - not the least of which include the ability to manually assign IRQs, to alter the Vcore and Vio voltages, its excellent software bundle, and high score & performance, we don't hesitate to award the MSI™ 815EP Pro-R our best recommendations.
In February 2001, the 815EP Pro-R earned the "Editor's Choice" award from WCM Magazine in Austria. The editor remarked:Considering that its features IDE RAID, USB PC2PC, diagnostic LEDs and an AGP Pro slot, you will have a difficult time finding a Socket 370 board that offers better value for your money than the MSI™ 815EP Pro-R. Everything you need is included."
In March 2001, the 815EP Pro-R once again was given "Editor's Choice" from PC World Magazine in Russia. The editor wrote: The stability is one of the best I've ever experienced. MSI™ is known to produce high quality products and 815EP Pro-R is no exception. The layout of the board is very well done and it has all the overclocking features needed for overclocking an Intel CPU.
In the same month, the 815 EP Pro-R earned another "Top Grade Hardware" award from active-hardware.com in the United States. The editor was amazed by 815EP Pro-R's performance and made a comment: The 815EP Pro RAID also comes with Fuzzy Logic™3 technology, which permits the system to be overclocked without the need to quit Windows or restart the system. An extra thermal sensor connector has been thrown in, which is a handy way of measuring the temperature of one's favorite components. MSI™ has also included their MSI™ Live BIOS™ system, which is an Online BIOS update system. A Windows-compatible hardware monitoring system is also integrated. Finally, the integrated RAID controller allows users to plug an additional 4 drives into their system, for a grand total of 8 IDE devices."
In conclusion, the MSI™ 815EP Pro RAID is close to perfection. "That said, the 815EP Pro definitely represents the cream of the i815 crop."
The MSI™815EP Pro-R sets a new benchmark in PC performance and is optimized to take full advantage of the latest Intel processor technology. With a design rich in features and specifications, the 815 EP Pro-R will surely be appraised by computer users.
Sources: www.Hardwarezone.com (Singapore), January, 2001
WCM Magazine (Austria), February, 2001
PC World Magazine (Russia), March, 2001
active-hardware.com (U.S.A.), March, 2001