It's good idea. To considerate dump the old and no longer a conventional and stubborn IT device. At 2004 CES, MSI is demonstrating an all-new idea 11g + Bluetooth Combo Interface Panel, PN54GBT in Booth # 11111. MSI, you know is the worldwide leader in manufacturing of Motherboard, VGB and OSD but now more including the networking and digital electronic technologies Products.

Convention goers will see not only the top-leading technology but also a fashionable and interesting industry design, the rich futures including 802.11g and Bluetooth combo. With the PN54GBT combined, your desktop PC is equipped with both WLAN and Bluetooth capabilities, being able to interconnect with Bluetooth peripherals as well as WLAN products freely and cablelessly. Designed as dual-network compliance, the PN54GBT equip the PC with abilities connecting to both PAN (personal area network) and LAN (local area network).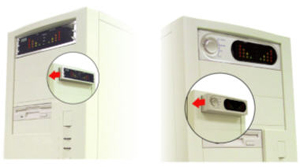 The PN54GBT has the 2 kinds of compact and stylish design with convenient panel that you can easily diagnose and detect either WLAN or Bluetooth signal strength via LED indication on front panel. For easy to use, PN54GBT, is CD-ROM like interface provides users with quick assembling in simple DIY steps. Also on display in MSI booth are Wireless 11g + Bluetooth Combo PCI Card, PC54GBT, MSI new Bluetooth product family and MSI 11a/b/g dual-band product line showing up. PC54GBT offer compliance with MSI proprietary PCI slot, Unique and elegant dipole antenna and software AP/Gateway support. MSI provides very proprietary PCI Slot so that you can comply with slot of MSI motherboard, providing a seamless and perfect combination. And the stylish Antenna Design will show you specially-designed antenna makes your PC outlook stylish and fashionable
MSI will provide more the reliable wireless consumer electronic solutions. With the solid foundation that experienced R&D Capability and Manufacturing Strengths, MSI will continually evolve the products and services to meet our customer's needs. Through market growth and product diversification, MSI has continued to grow and maintain the dominant position by providing an unwavering commitment to new product development and the highest level of customer service and support.
All modifications will be announced on the MSI website without any further notice. If you want to know more products and activity information, please visit the MSI website: www.msi.com.tw.