The GeForce FX 5200 may be an entry-level GPU, but all the extra accessories, games and software offered with the MSI™ FX5200-TDR128 may change your overall perception of the card. With the elaborate box design and its rear emphasizing the bundled goodies, MSI™ graphics cards are among the most attractive and outstanding in the retail store.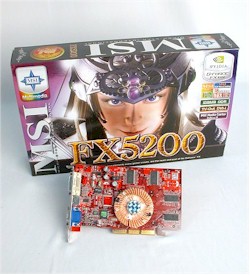 For more information of MSI™ FX5200-TDR128 Specifications, please refer to /program/products/
vga/vga/pro_vga_detail.php?UID=439
All of MSI™s current line-up of graphics cards feature T.O.P. Tech cooling that ensures adequate graphics card cooling while maintaining silent operation at the same time. We have seen many MSI™ graphics cards with T.O.P. Tech in action and neither of the two properties (cooling and silence) is ever compromised while the card is in operation. This is something we really have to commend MSI™, as they did put the effort into improving their older graphics card designs. In fact, the FX 5200 GPU can easily do away with active cooling as heat output is easily managed by an adequately sized heatsink.
The Media Center Deluxe II is a user interface screen that sits on top of the Windows environment and was developed to actually ease PC usage.
MSI™ is the first and only graphics card manufacturer to introduce BIOS redundancy on the graphics card level. Instead of utilizing two flash chips, MSI™ incorporated two BIOS signatures on one flash part. Should your flashing procedure be disrupted or failed for any other reason, you can easily recover your card's state and retry.
Conclusion
For those who were unaware of the GeForce FX 5200 product positioning, we hope this review has enlightened you as many end-users initially thought it was a low cost but high performance product.

Concentrating on the MSI™ FX5200-TDR128, we found it to be the most feature packed graphics card for the entry level market especially with its bountiful of extras offered within the package. Ten CDs encompassing 18 utilities and 10 games (with Morrowind, Duke Nukem and Ghost Recon being full versions), TV-Output breakout box, S-Video extension cables, DVI to DB-15 converter, Twin-BIOS and MSI™'s remote controller all packed in a cool-looking product package, the MSI FX5200-TDR128 hardly seems like an entry-level card.
We justify awarding it 4 out 5 stars. However, we would like to stress that the extra cost associated with the MSI™ FX5200-TDR128 is well worth it for those who would benefit from the bundled items.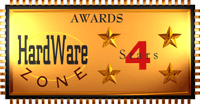 (News Source From HardWareZone.com)