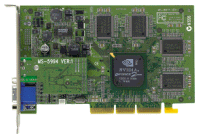 Building on the latest GeForce2 PRO™ chipset from nVIDIA®, which works more efficiently than the GeForce2 GTS™ by 20%, the overall performance of MS-StarForce 815 Pro advanced level graphic accelerator from MSI™ is superb together with the 350MHz RAMDAC and 64MB DDR (Double Data Rate) SDRAM features. The efficient engineering of GeForce2 PRO™ concentrates all 3D pipeline processing on the graphic accelerator to effectively reduce the use of CPU resources.
With supports to eighteen ATSC formats, MS-StarForce 815 Pro will be your budget solution for DTV receiver add-on card. In addition, GeForce2 PRO™ supports both PCI and 4X AGP buses, which makes MS-StarForce 815 Pro a revolutionary landmark of 3D game experience.
The key features of MS-StarForce 815 Pro are:
nVIDIA® GeForce2 PRO™ graphic processor with hyper-pixel architecture, world-premiered dual-channel and 8 pixel/clock supports, including the nVIDIA® Shading Rasterizer (NSR) for full-pixel shading function with 1.6 giga pixel processing capacity at 200MHz.
GeForce2 PRO™ has over 25 million transistors inside which enable the GigaTexel Shader to provide more accurate visual effects for 3D emulation according to the color, shade, light, reflection, radiation, brilliance, dust and other visual effects and properties of objects.
Per-pixel lighting technology to present the natural appearance of objects according the reflection coefficients of materials, such as leather, metal, hair, plastics and rocks.
MSI™ DVD:


DVD Player software exclusively from MSI™ for easy DVD playback.




3D!Turbo™ 2000


- Screen:

powerful and convenient display setup; automatic DDC2B display support detection with protection function to resume original display mode in 10 seconds when changes are invalid.
- Overclocking: 'Control' function for memory working frequency to satisfy the user's requirement for higher working frequency.
- Multi-desktop: 8 desktop options for users to put similar functions in the same group to facilitate desktop management.



MSI™ Drivers & Utilities:


The VGA Drivers & Utilities CD from MSI™ contains all drivers and utilities manufactured by MSI™, as well as Adobe Acrobat Reader and Media Player.