News
MSI Fan Day!
Latest Update: Tue, 24 Mar 2015
28th, February, 2015, Eindohven. The MSI first exclusive Fan Day took place at the Euroscoop Cinema in Tilburg, The Netherlands. This is a remarkable day for MSI team and our VIP fans, MSI holds an interesting workshops, presentations and collaborated with our partners Hardware.Info, GamersNET, Ubisoft, Electronic Sports League (ESL) and the Hardware.Info Pro OC Overclocking Team.

MSI showed the latest line-up in the event, Z97 GAMING 5, GTX970 GAMING, AG240, Nightblade z97, gaming notebooks GT80 Titan, GS30 Shawdow, GT72, GE72/62 with NVIDIA 900 series. In addition there is the possibility to play the latest games on the latest MSI hardware against well-known pro-gamers, such as Melania TheKing77NL, Gina, ScreaM and Nysira.

All participants went home with a MSI goodie bag which full of MSI goodies, want to know more about MSI Fan Day? Let's check out the Aftermovie!

One more thing! We are looking to join forces with MSI fans for the Nordic countries! Do you want to be part of the MSI Fan Panel and do you live in, Sweden, Finland, Iceland, Norway or Denmark? Apply through this URL(http://bit.ly/1ERF7u3) and be part of MSI awesome group!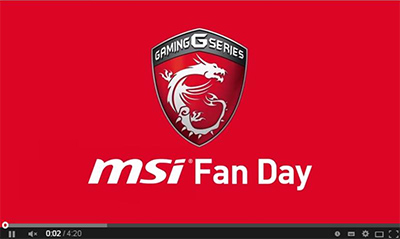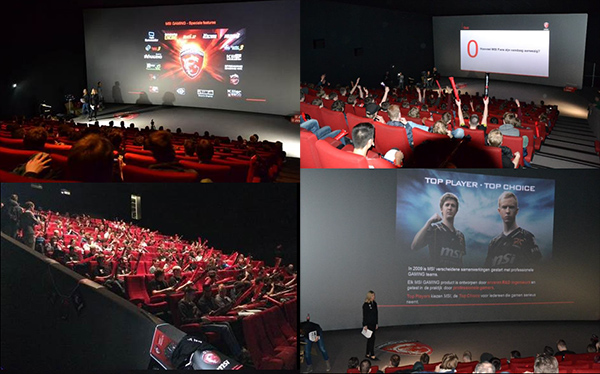 Nysira- popular twitch player was present the whole day to play on her own gaming system with MSI components in it.

3x3 CS:GO competition together with pro-gamers - Gina and Scream



Product live demo



Goodies



Media release/ Youtube link
http://www.techtesters.eu/verslag-en-fotos-msi-fan-dag/
https://www.youtube.com/watch?v=rVYV1P2ml9A
http://nl.hardware.info/nieuws/43182/hardwareinfo-pro-oc-breekt-wereldrecord-3dmark-vantage-voor-2x-r9-290x
https://www.youtube.com/watch?v=_b-oe9MKF0E
https://www.youtube.com/watch?v=Zn6iC_QEYTQ