News
Hetis 965 – Small in Size, Big in Performance
Latest Update: Thu, 12 Jul 2007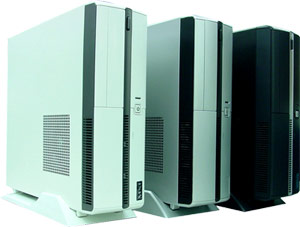 MSI, a leading manufacturer of IT solutions will showcase its latest slim-type desktop PC - Hetis 965 series at this year's COMPUTEX. The Hetis 965 series is based on either Intel G965/ICH chipset or Intel Q965/ICH8DO chipset with Intel® vPro technology; thus, offering innovative security. Performance and remote repair features help users spend less time dealing with

technical issues. With a stylishly-designed exterior, users will enjoy unrivaled versatility, living-room ergonomics and ease-of-use. The Hetis 965 series promises a complete home entertainment experience of movies, games, music and online content


Lightweight, Amazing Expandability, Outstanding Flexibility
Measuring 320(w) x 94(h) x 3201(l) mm, the Hetis 965 Series is easy to set up anywhere. Tailored for gamers and power users, the Intel® Core 2 DuoT/ExtremeT/Core 2 QuadT processors based system provides exceptional performance for ultra-realistic games and advanced digital media applications. It supports DDR2 800MHz dual-channel memory architecture and a maximum memory of 4GB, enabling Windows Vista to run flawlessly.




Support the Latest & High Performance Chipset
Hetis 965 series barebone incorporates Intel® G965/Q965T chipset to boost your gaming and multimedia experience. The integrated graphics engine Intel® Graphics Media Accelerator X3000/3000 included is designed to improve image processing speed and visual playing performance. It also features the Intel® Clear Video Technology, which trail blazes new standards in high-definition video, crisp imaging, and accurate color control. In addition, it comes with a PCI Express x16 slot for future graphic card upgrades.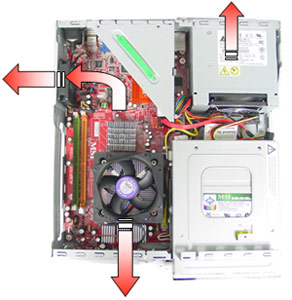 Unprecedented Computing Efficiency
MSI Hetis 965 features exceptional cooling architecture and superior airflow to ensure optimal performance for today's powerful, heat-intensive components. It also utilizes the "MSI Specific Linear Fan Speed Control" to control fan. This specific method not just guarantees silence while idle but also makes users feel comfortable in working mode as the fan will spin smoothly based on real system loading.

Easy to Assemble/Disassemble Design
The modular design of MSI Hetis 965 provides total flexibility, safe and easy installation for component upgrade and maintenance.