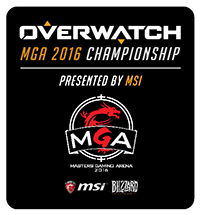 MSI Headquarters, Taipei—December 5, 2016—The Grand Finals of Overwatch MGA 2016 Championship Presented by MSI is ready to kick off on Dec. 7 at Gfinity Arena in London. This top-notch eSports event will be brought to viewers by an amazing team of a well-experienced European host, two popular casters, and two well-known commentators. Exciting onsite activities are also arranged at the event, including the showcase of the latest gaming gears from MSI and the debut of the latest gaming monitor from. Tickets for the Grand Finals of Overwatch MSI MGA 2016 are now available at The Ticket Fairy.
Grand Finals Ready to Kick Off in London
After nearly one month of heated competition since early October from the Online Qualifiers to the Regional Finals, the top three teams advancing to the Grand Finals are: Rise Nation from Americas, Ninjas in Pyjamas from Europe, and KongDoo Panthera from Asia. MSI invited team – Fnatic will be joining in to compete for the champion honor. The Grand Finals will be using the Competitive Mode and played out in a best of five (BO5), double-elimination series. And the final playoff will feature a best of seven (BO7).
https://www.youtube.com/watch?v=srWSXQxdYUs
Overwatch MGA 2016 Championship Presented by MSI
Tickets On Sale for the Grand Finals, Featuring Exciting Onsite Activities and Latest Gaming Gear
Not just top-notch games, the Grand Finals will also bring the best gaming experience to eSports fans with experience areas showcasing the latest and coolest next-generation gaming gears from MSI. All four teams will be using the new-generation 17.3-inch GT73VR 6RE TITAN SLI gaming laptop, which features dual NVIDIA GeForce GTX 1070 to deliver even better performance than NVIDIA GeForce GTX 1080. This will certainly bring unprecedented power and amazing experience to the teams. The experience areas will also be demonstrating the ultimate power of GS63VR 6RF STEALTH PRO gaming laptop, which combines ultra-portability (only 1.9 kg) with powerful cooling. Other MSI products to be showcased include GeForce GTX 1070 GAMING X 8G and GeForce GTX 1060 GAMING X 6G graphics cards, Z170A GAMING PRO CARBON motherboard, and the latest Aegis X and Trident series gaming desktops. Aside from MSI products, all the monitors displayed in this event are sponsored by LG, that will also unveil, for the first time, the latest 24-inch GM79G gaming monitor at the Grand Finals. Other latest large screen monitors will also be displayed at the experience area, including the 34-inch UC79G, the 38-inch UC99, the 27-inch UD68P, and the 34-inch UC88.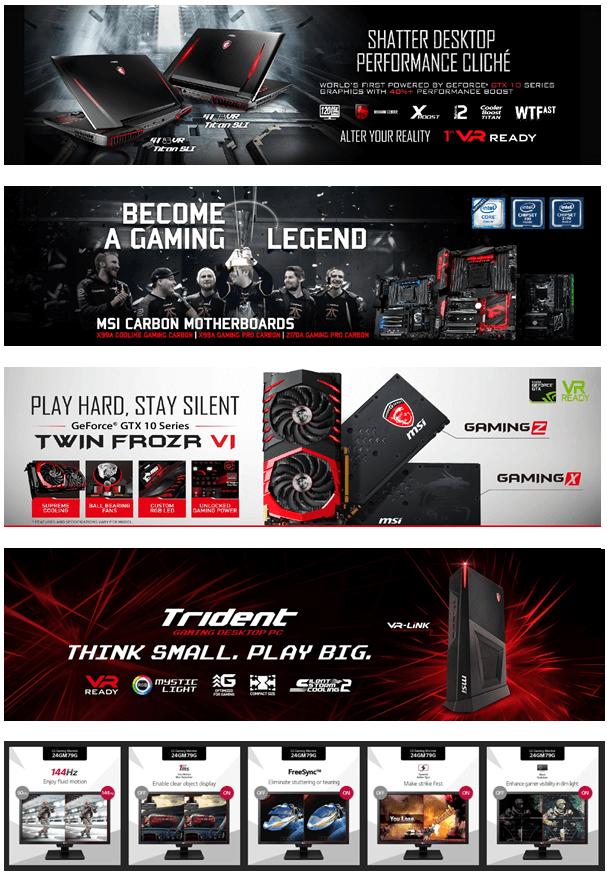 The Grand Finals are no doubt to bring an unprecedented, adrenaline-pumping event, plus the latest gadgets and lots of fun to Gfinity Arena, taking eSports experience to a completely new level for gamers and fans around the world. Tickets for the Grand Finals are now available online at The Ticket Fairy. Fans who enjoy top-notch competitive gaming should definitely check out this the event. For more information, please visit :
https://www.theticketfairy.com/event/mga2016/
.
Popular Host, Casters, and Commentators to Bring the Best Experience and Most In-depth Analyses
The event will be hosted by the well-experienced European hostess Soe "Soembie" Gschwind-Penski. Mitch "Uber" Leslie and Josh "Sideshow" Wilkinson, who were also at the casters' desk at BlizzCon 2016 and DreamHack Winter 2016, will be partnered to be the casters. Besides, Andrew "ZP" Rush and Robert "Hexagrams" Kirkbride, both veteran Overwatch analysts, will join the team as commentators, bringing the best experience and most in-depth analyses to the viewers.
Special thanks to our sponsors: Intel, XBOX, Windows 10, Nahimic, NVIDIA, and LG, who make tremendous contributions to create a better environment for eSports to develop and for pro-players to fight their way to honor.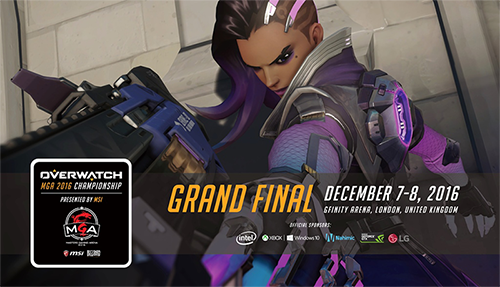 Overwatch MGA 2016 Championship Presented by MSI Grand Finals will be held during 15:00-22:00 (GMT) on Wednesday, Dec. 7 and Thursday, Dec. 8 at Gfinity Arena, London, where the final four teams from around the world will be competing for the Championship title and the US$75,000 prize pool.
The final champion of MGA 2016 will walk away with a US$40,000 cash prize. Second place, third place, and fourth place will be awarded US$20,000, US$10,000, and US$5,000, respectively. The exciting Grand Finals will be broadcast live on Twitch by MSI at:
https://www.twitch.tv/msigamingameu
. Don't miss out on the chance to enjoy the live event at the arena or online.
For more information, please visit MSI MGA 2016 website or follow MSI on Facebook. More information will be released as the event unfolds.
Grand Finals of Overwatch MGA 2016 Championship Presented by MSI
Time: Wed, Dec 7 - Thu, Dec 8, 15:00 - 22:00 (GMT)
Location: Gfinity Arena, London, UK
MGA 2016 Website:
https://www.msi.com/event/mga/
MSI on Twitch:
https://www.twitch.tv/msigamingameu/profile
MSI on YouTube:
https://www.youtube.com/user/MSIGamingGlobal
MSI on Facebook:
https://www.facebook.com/gamingmsi
MSI on Twitter:
https://twitter.com/msitweets
Blizzard Entertainment Website:
http://www.blizzard.com/
Blizzard Overwatch Facebook Fan Page:
https://www.facebook.com/PlayOverwatch/
Blizzard Overwatch on Twitter:
https://twitter.com/playoverwatch
For more information on MSI's award-winning products, please visit:
www.msi.com
.
MSI Products to be Showcased
Gaming Laptop
GT73VR 6RE(Titan)-034UK:
https://www.msi.com/Laptop/GT73VR-6RE-Titan.html
GT83VR 6RE Titan:
https://www.msi.com/Laptop/GT83VR-6RE-Titan-SLI.html#hero-overview
GT73VR 6RE Titan SLI:
https://www.msi.com/Laptop/GT73VR-6RE-Titan-SLI.html#hero-overview
GS63VR 6RF Stealth Pro:
https://www.msi.com/Laptop/GS63VR-6RF-Stealth-Pro.html#hero-overview
GE62VR 6RF Apache Pro:
https://www.msi.com/Laptop/GE62VR-6RF-Apache-Pro.html#hero-overview
Graphics Card
GeForce GTX 1070 GAMING X 8G:
https://www.msi.com/Graphics-card/GEFORCE-GTX-1070-GAMING-X-8G.html#hero-overview
GeForce GTX 1070 QUICK SILVER 8G OC:
https://www.msi.com/Graphics-card/GeForce-GTX-1070-Quick-Silver-8G-OC.html#hero-overview
GeForce GTX 1060 GAMING X 6G:
https://www.msi.com/Graphics-card/GeForce-GTX-1060-GAMING-X-6G.html#hero-overview
GeForce GTX 1080 GAMING X 8G:
https://www.msi.com/Graphics-card/GeForce-GTX-1080-GAMING-X-8G.html#hero-overview
Motherboard
X99A XPOWER GAMING TITANIUM:
https://www.msi.com/Motherboard/X99A-XPOWER-GAMING-TITANIUM.html#hero-overview
Z170A GAMING PRO CARBON:
https://www.msi.com/Motherboard/Z170A-GAMING-PRO-CARBON.html
Z170A MPOWER GAMING TE:
https://www.msi.com/Motherboard/Z170A-MPOWER-GAMING-TITANIUM.html#hero-overview
Z170A GAMING M6:
https://www.msi.com/Motherboard/Z170A-GAMING-M6#hero-overview
Gaming PC
Aegis X:
https://www.msi.com/Desktop/Aegis-X.html#hero-overview
Trident:
https://www.msi.com/Desktop/Trident.html#hero-overview